Members of the Chiwanja Cha aYao Cultural grouping on Wednesday cheered veteran musician Giddes Chalamanda at his home village in Chiradzulu where they donated assorted food items.
The donation came barely months after the 93 year old music legend was discharged from Chiradzulu Hospital where he was admitted.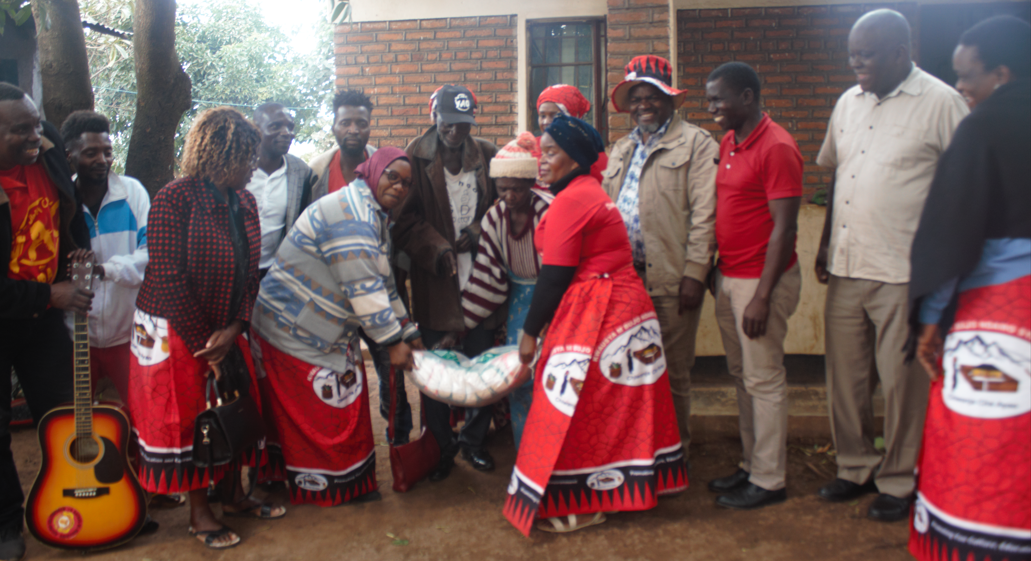 Speaking in an interview with the press Chiwanja cha Ayao National Executive Committee (NEC) member Alex Chimwala said the grouping believes in assisting one another in times of need hence the donation.
"After hearing that our granny was admitted in hospital recently and knowing that Chalamanda has entertained us for several years, we thought it wise with the guidance from our Chairman to come here, cheer him and donate something to him," said Chimwala.
He then urged politicians and other well-wishers to come forward and support the veteran musician.
On his part Chalamanda, who had time to entertain the group with a song, hailed the members for the gesture.

The 'Che Meli' star said that in the absence of live performances, which he cannot do at the moment as he is recovering, he does not have any source of income.
"Am really short of words with what the Chiwanja Cha Ayao grouping has done to me and I thank God for every support i receive from people. My plea to fellow Malawians to continue doing good to me and others out there who are need of their support," said Chalamanda.
Some of the iterms donated included;cooking oil, maize flour, sugar and chickens.
The donation by the members of Chiwanja Cha Ayao comes as they prepare for the culture grouping's annual festival to be held at Mangochi Stadium on October 21 2023.
Subscribe to our Youtube Channel: