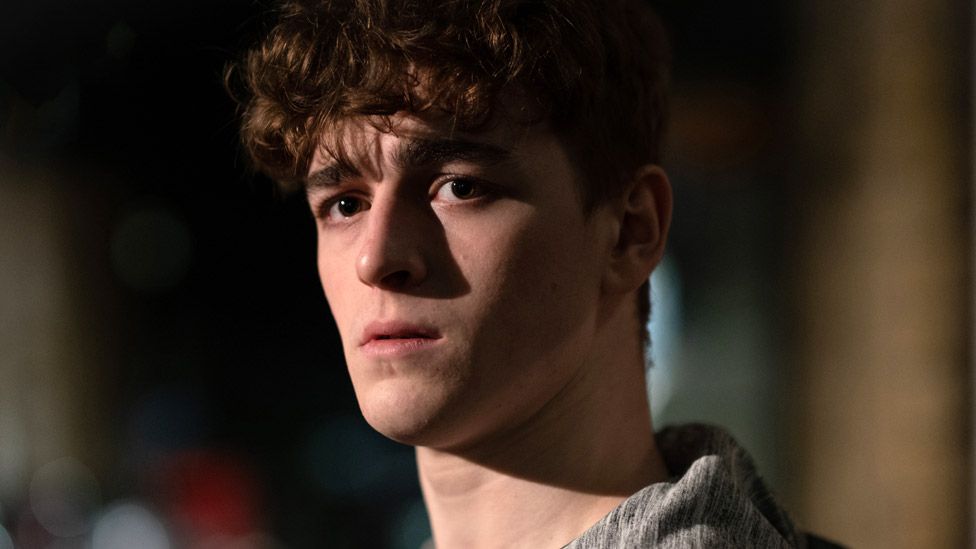 Happy Valley fans waited seven years for a third series. The reason? So actor Rhys Connah, who was a young boy when he first played Ryan, could grow up. He says returning to the TV show in his teens has been a very different experience.
When Connah's mother first saw he had won a role in a show called Happy Valley, she thought it was going to be a very different kind of show.
"I overheard my mum speaking once to one of her friends," he recalls.
"She was like, 'We got this script and it's called Happy Valley and I thought, this is going to be a really nice kids' show. Then I opened the script and I started reading and I thought – this is not a kids' show!'"
Connah was about eight when he was cast as the grandson of Catherine Cawood, played by Sarah Lancashire, a police sergeant for whom murder and kidnap and dodgy gangs are all part of the tapestry of life in her corner of West Yorkshire.
But the main drama has always revolved around Ryan.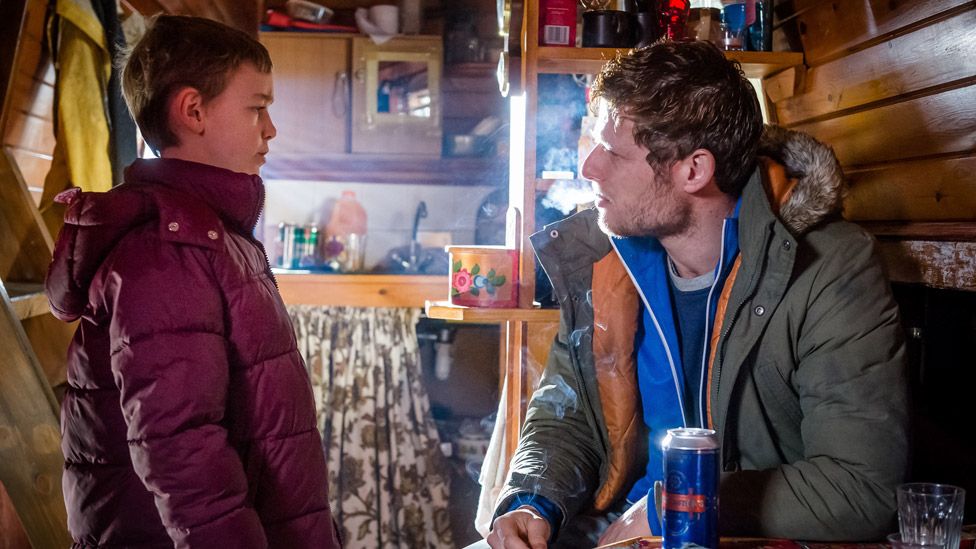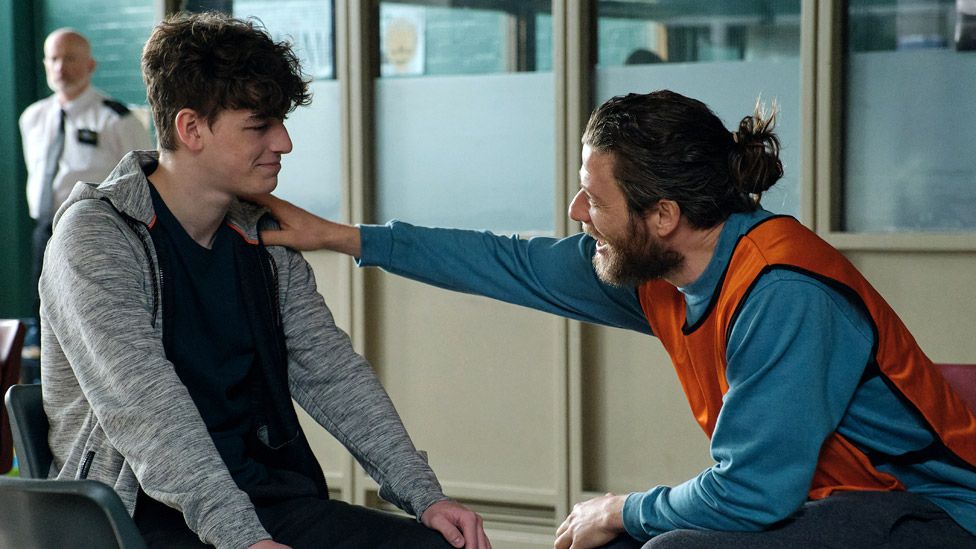 His mum killed herself days after he was born because she was raped by violent criminal Tommy Lee Royce. That's according to Catherine, who blames Tommy for her daughter's death and has always just wanted to convince Ryan not to have anything to do with him, and to make sure he doesn't turn out like him.
Tommy, played by James Norton, apparently does want to get to know Ryan.
There was such a long delay between series two and three so Ryan, now 16, could get old enough to make up his own mind.
Creator and writer Sally Wainwright recently told BBC Radio 5 Live: "The gap really was about waiting for the character of Ryan to be old enough to have his own agenda, and be [able to have] a thoughtful response to his situation regarding his relationship with Tommy Lee Royce."
Connah didn't know exactly how long Wainwright would wait. "I was told at some point, I honestly can't remember when, that she was waiting for us to grow up a bit," he explains.
"But I didn't know to what extent I'd be growing up until. I didn't know if I'd be waiting until I was 14/15 or until I was 25 or something.
"Then I got a call: 'It's happening.'"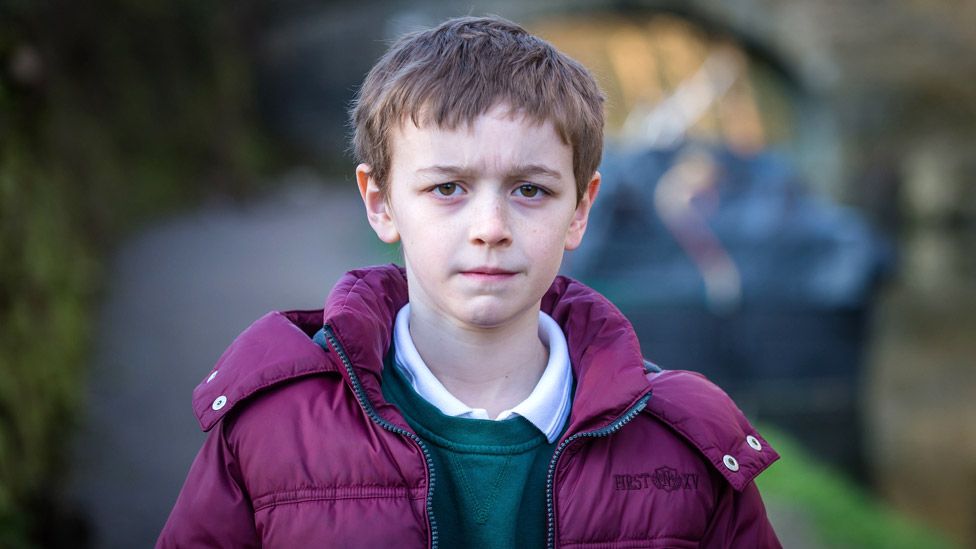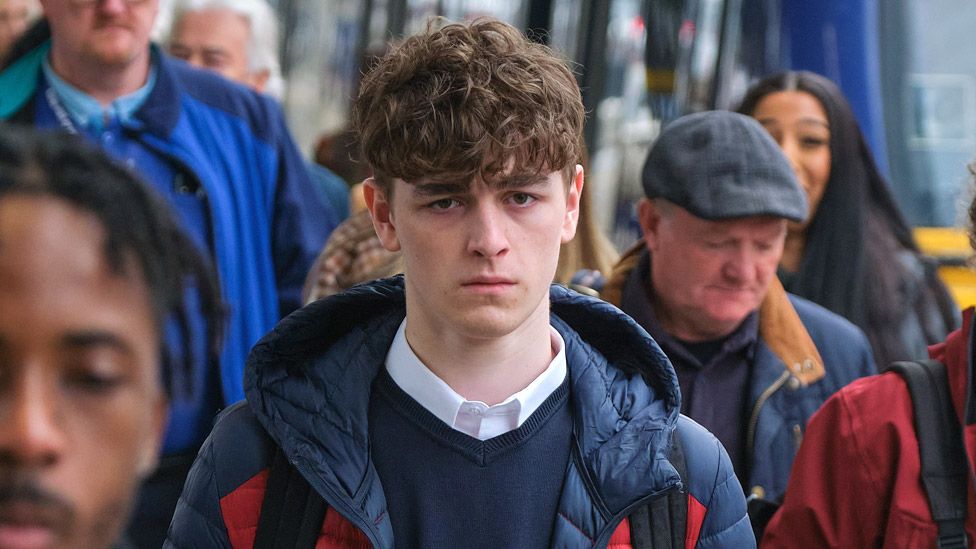 Connah, from Heywood, Greater Manchester, got the part after going to an after-school drama club. At first, he was sheltered from the more grisly storylines. "I didn't really have an idea of the show," he says. "I went in only knowing my own scenes."
Even when Ryan's scenes involved high drama, the atmosphere on set was kept light. While filming the series one finale, when Tommy poured petrol over himself and Ryan on a narrowboat, Norton and Connah would be having a laugh making paper planes between takes. "So it was a really great experience," he recalls.
Ryan often displayed challenging behaviour of his own, usually in tantrums and arguments with his beleaguered granny. Having to act those out didn't faze the young Connah – in fact, he often enjoyed it, he says.
"I was the coolest kid in school because I got to walk in like, 'Guess what, I got to swear and no-one could shout at me, no-one could say anything. I got to swear loads all day.'"
A decade on, the actor watched the old episodes properly in preparation for series three. "It's very dark, isn't it?" is his verdict.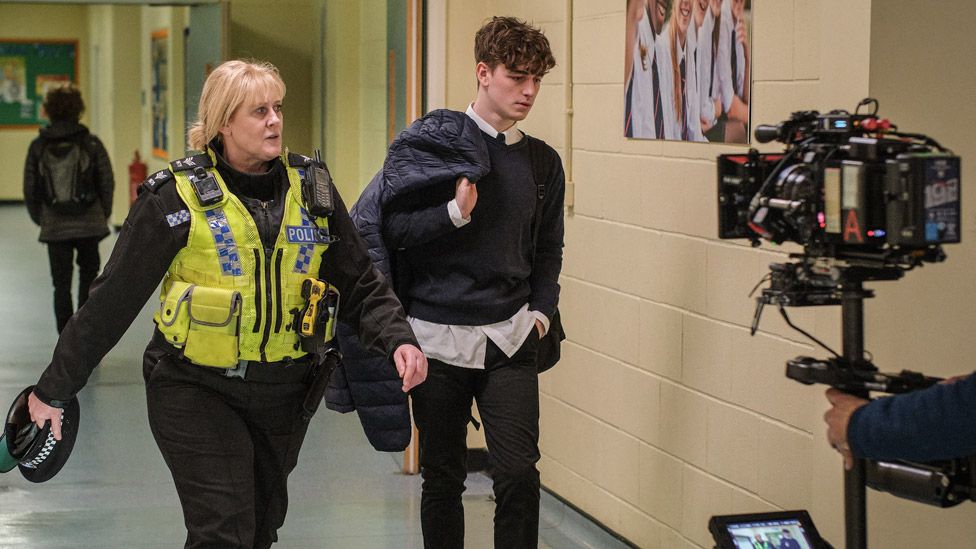 Filming the third series was a "very different" experience, he says. Rather than just being told where to stand and what to say, he has had to try to fully get inside Ryan's mind.
In series three, we see Ryan's desire to visit Tommy in prison.
"I'm not a child actor so I actually have to understand it. When I got the script, I did spend quite a lot of time trying to figure out why he does it," Connah says.
"Me personally, as Rhys, I don't agree with the decision – but when I'm playing Ryan, I have to agree with it. So I need to find a way in which I could convince myself why you would go."
The reasons he came up with, he says, include that Ryan hasn't met Tommy very much and so doesn't fully know what he's like.
"When Ryan goes to visit him, he's not some gang leader or some violent prisoner. He's a nice, comforting person. And he is Ryan's dad, biologically.
"Ryan is at the age where having a father figure in life is very important, and Tommy is the only person who can provide that.
"If Ryan went once, just to see Tommy out of curiosity, and he was a terrible person, then I don't think he'd have gone again. But because he saw Tommy being good in prison and not being a violent person, that's caused this opinion of Tommy to change in Ryan's head.
"So instead of some violent serial killer, he's just this slightly misunderstood person who's made some mistakes in the past and wants to change for the better."
The first two series of Happy Valley both won best drama series at the Baftas, and it would be a surprise if the third doesn't complete the hat-trick.
It has attracted more than eight million viewers, who are now waiting to see how the storyline between Ryan, Tommy and Catherine plays out.
Connah, who is studying media, is enjoying the many theories.
"One of my mates at college, he loves the show. So when we started filming, he wrote a big list with all the ideas of everything he thinks is going to happen.
"Every time he watches an episode, he'll sit there with his notes and go, 'It happened, right, what's going to happen now?' He's come up with some mad theories. I love hearing them. I love hearing everyone's opinions of the show."
Ending filmed 'in different ways'
But does he have to keep a straight face so he doesn't give anything away?
"A lot of the theories are a bit stupid, so sometimes I do laugh. But sometimes when they're saying random stuff, one of them will list five different plot points, all of which happened exactly, and I'm just like…" He gives a Bafta-worthy desperately-trying-not-to-give-any-reaction reaction.
Even if he did want to give the ending away, which he doesn't, there's only so much he could say.
"I do not know exactly how it ends. I did hear somewhere that they've made multiple endings, but that's not true," he says.
"What they've done is, as a lot of shows do – there is one ending, but they've filmed it in different ways, different ways of how characters say things, the emotions behind them, the angles, the framing, because how much that stuff can affect a scene is more than most people would think."
So he'll be watching the finale like the rest of us. "On the edge of my seat."
Happy Valley is on BBC One on Sundays at 21:00 GMT until 5 February and on BBC iPlayer.
More on this story
Happy Valley star reflects on nine years of the show

Happy Valley to return for third and final series

Happy Valley third series 'needs time'