Nollywood actor and former presidential aspirant, Yul Edochie has made an appeal to Nigerians.
The father of five, via his Instagram page, pleaded with Nigerians to support his new business, Isi Mmili Company, which focuses on real estate.
He told them not to wait for him to die, and then start calling for justice from him. According to him, the best justice they can give him is to patronize his business.
Yul added that they should allow him to enjoy justice while he is still alive.
"If you love me come and buy property from my company. Isi Mmili Global LTD. Don't wait for me to die then you start doing' Justice for Odogwu'. The best justice you can do for me is to patronize my business.
Let me enjoy the justice while I'm alive".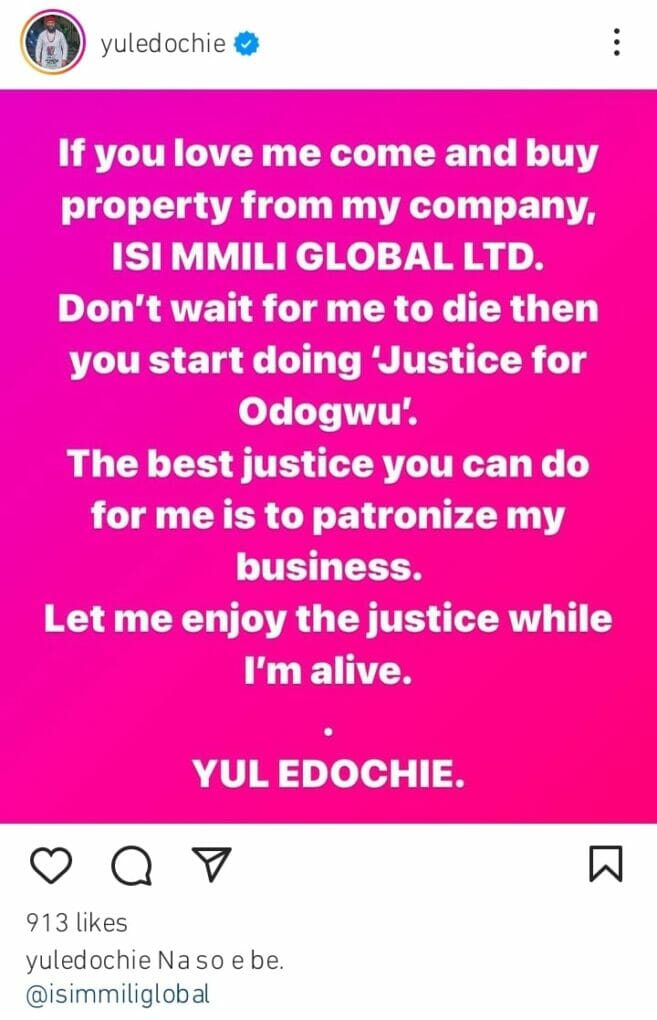 Taking to his comment section, some of his fans tackled him, pointing out how he doesn't deserve justice, especially with his maltreatment of his first wife.
One Onyinyechi Favour wrote, "You don't deserve Justice, your wife of many years deserves to get justice. You and Mrs Obasi should continue foøling yourselves
One Empress Of Love wrote, "Not everyone who kicks a bucket in life needs justice, others it is a relief. And don't force people to buy from you rather let your work speak for its self
One Lucy Ukuma wrote, "Nobody is buying. We are going to show you that without fans there won't be many celebrities as people no gree watch Enough wood you jump enter this one
One Oma Sleek wrote, "Na this 'If u love me' u wan use spoil this ur business
One Pamela 4 Real wrote, "Pimp Judy to all those Alhaji to boost your business".
Just a day back, in the wake of singer, Mohbad's death, Yul Edochie had unleashed his fury at Nollywood celebrities and Nigerians over their hypocrisy.
The failed presidential aspirant noted how many have been clout-chasing with the singer's name, yet have been doing worse to him.
According to him, the same bullying that was done to Mohbad is the same bullying many of his colleagues and internet trolls have been doing to him, without hearing his side of the story.
In another post, Yul offered powerful advice to his millions of fans and followers, admonishing them to protect themselves physically and spiritually.
Explaining why, he stated that many witches and demons are walking around, hence, the need for protection.