In the wake of young promising singer, Mohbad's death which has been linked to the assault he faced with his former label, many artists have been speaking out on the ordeals they have also faced in their label.
Joining them, singer Harrysong revealed that he would have died in the hands of his former label, if not for the grace of God and the assistance of good men around him.
He narrated how he suffered torment, attacks, abuses, and operations back to back, just because he served and wanted to move on.
Harrysong described his bitter ordeal as 'hell', as he noted how the public believed everything that was said about him, and he was bullied by all.
"If not for the grace of God, with the help of some very few good men. I would've also died in the hands of my former label. The torment, attacks, abuses, and operations back to back. Just bcos I've served and wanted to move on and grow a little for myself. It was hell for me, the general public believed everything they said about me then. Fans, supporters, and show promoters, bullying me everywhere. In fact, one of my friends said he would buy drunks, and celebrate if I die of hunger and depression. Am alive today just for the few that stood for me and by me. Cus they know the true story and refuse to be influenced by lies just to kill an innocent man, record labels should stop these do-or-die things, killing and destroying young talents just because they want to prove label power and supremacy".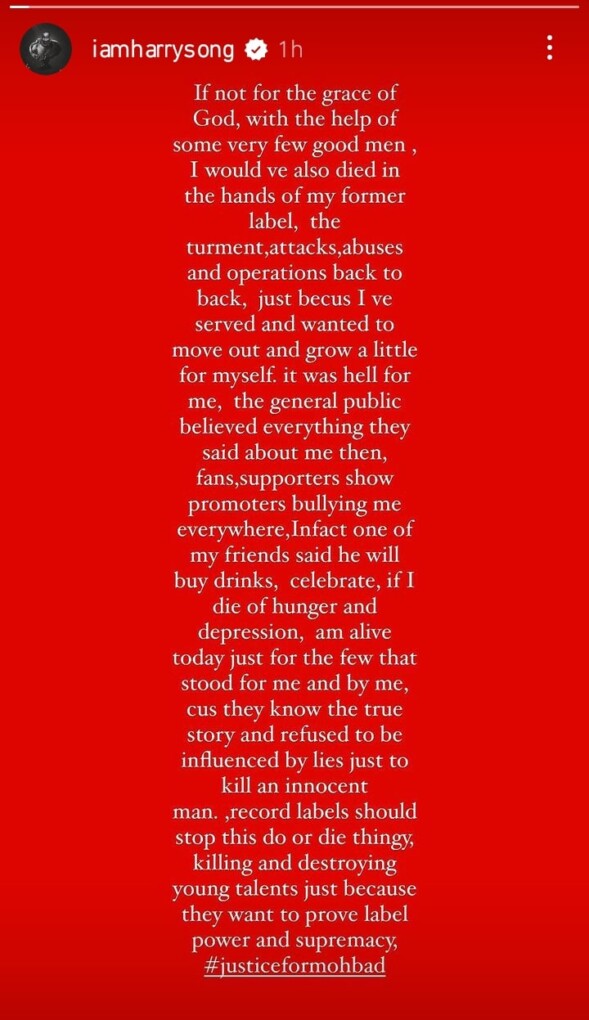 The death of Mohbad has led many upcoming artists to speak out on their bitter ordeal with their label.
Former signee to award-winning singer, Naira Marley, Tori Keeche recently opened up on the maltreatment she suffered at the hands of the singer and his crew.
In a series of posts on her new Instagram page, Tori revealed how Naira Marley seized her former Instagram account after she left the label, claiming that she overheard them plotting to execute the late Mohbad and had pleaded with them to spare his life but was threatened.
Tori recounted a scenario when Sam Larry, Naira Marley's aide, beat her up because she refused to have s3x with him and how she and Zinoleesky clashed when she advised him to flee from the label.
Also, former YBNL Princess, Temmie Ovwasa had poured out her grievances and displeasure at the way her former boss, Olamide's wife treated her while she was in their care.
She claimed the couple maltreated her as his wife never hesitated to publicly humiliate her by reminding her of her humble background from Ilorin.
Describing his wife as a mean woman, Temmie recounted the several public humiliations she endured.