Deborah Enenche, the daughter of Pastor Paul Enenche, the Senior Pastor of Dunamis has been brought to tears with the sweet birthday tribute, Destiny Kid's star, Rejoice Iwueze penned to her.
Deborah celebrated her birthday on Tuesday, March 28th and Rejoice Iwueze had penned a emotional note to her.
Taking to her Instagram page, Rejoice Iwueze, who share a close bud with Deborah had revealed things people didn't know about the pastor's daughter.
She described Deborah as a friend you can always call on, one who knows how to boost energy, has a good listening ear and is a good partner in crime in enjoyment. To top it off, she is a powerful minister. For Rejoice, Deborah is all shades of awesomeness.
"When I say I have a Covenant sister, her name is Debbie. A friend I can call on, oh it's Debbie baby. Someone that knows how best to boost my energy, do not hesitate to call Debbs.
A listening ear to say everything, it just has to be Debbie nwa.
You talk of partner in enjoyment, it's definitely Debbie the enjoyment master.
Then you talk about powerful ministration, please look for Minister Debbie.
It's amazing how you are all shades of awesomeness. You make serving God beautiful and cute. You are a superstar and I'm so proud what God it's about to do this new phase of your life.
Happy birthday to you shuga. You know I get huge love for you sis.
Have a blast this new phase and enjoy God's love and favour.
Old family help me celebrate this lovely covenant sister @deborah_paulenenche".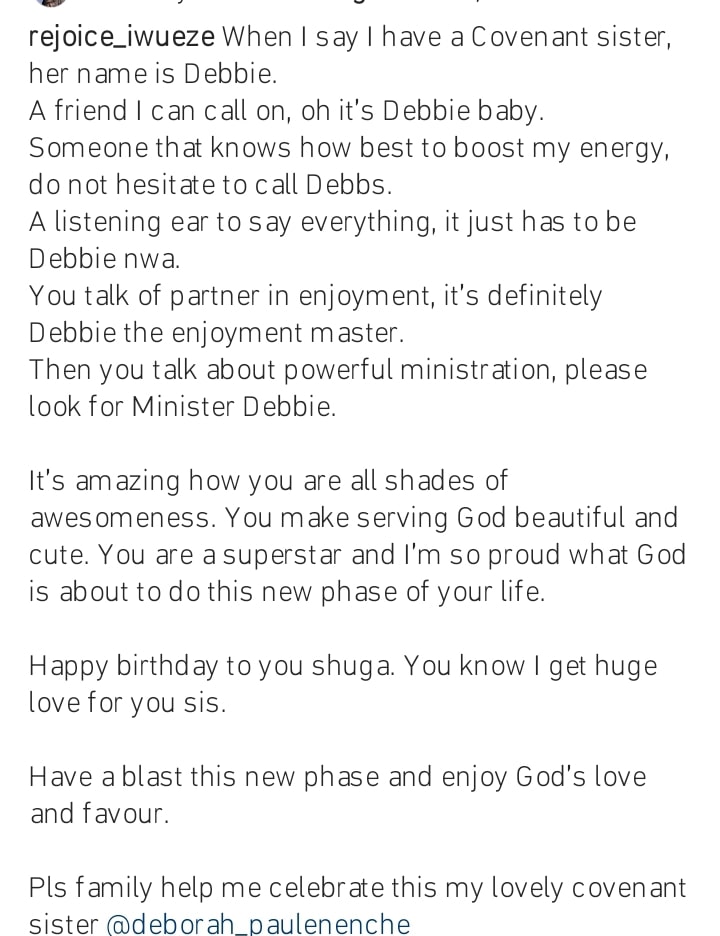 Taking to her comment section, Deborah who got a teary-eyed from reading her post appreciated her for the love.
She stated that she gets smitten with the love Rejoice shows her.
Affirming her love for her, she described Rejoice as a phenomenal woman and a sweet sister.
"Sis. The way you love me dey too sweet. I love you so much too. You're such a phenomenal women and a sweet sister. A confidant and someone I'm certain to respect and love me through and through. And if na enjoyment, na you be our chairman. I go cut bigggggggg cake for you".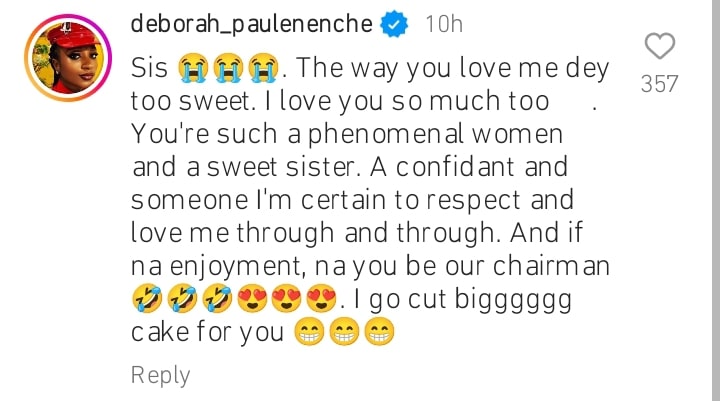 Why I held a bible instead of bouquet at my wedding" Pastor Enenche's daughter, Deborah spills
In other news, Deborah Enenche, had revealed why use used the bible on her wedding.
Kemi Filani reported that Deborah made headlines on Saturday, December 17th, when she made her grand entrance to her white wedding holding a bible rather than a bouquet.
In a post on her Facebook page, Deborah addressed the controversies that stemmed from such act.
Expressing excitement at the opportunity to start such trends, Deborah stated that it was the best way for her to start the foundation of her marriage. Read more here.