Clayton Osborn
Courtesy Clayton Osbon
What's going on up there?
Just weeks after an American Airlines flight attendant went on a screeching rant, a JetBlue Airways pilot had to be locked out of the cockpit by his copilot after yelling and acting unruly. The plane then made an emergency landing.
Clayton Osborn, 49, said to have no history of work troubles, was suspended Wednesday over the bizarre episode during an early morning flight Tuesday from New York to Las Vegas. The copilot had to make an emergency landing in Amarillo, Texas.
"While we don't know what led to the incident, what we can verify is that the pilot in command elected to divert to Amarillo to ensure the captain received proper medical attention," says JetBlue, "and we know the captain was then transferred to a medical facility."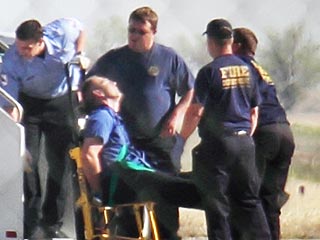 Clayton Osborn
Steve Douglas / AP
Pandemonium erupted aboard the Airbus 320 as the pilot reportedly shouted, "Oh my god! I'm so distraught! We've got Israel, we've got Iraq!" after he was coaxed out of the cockpit by the copilot, who locked the door and changed the security code, according to witnesses.
"The pilot ran to the cockpit door, began banging on it and said something to the effect of, 'We've gotta pull the throttle back. We've gotta get this plane down,'" passenger Laurie Dhue told CNN.
Osborn is not the first JetBlue crewmember with an onboard meltdown.
Flight attendant Steven Slater became a folk hero in 2010 when he famously exited the plane via inflatable slide while the jet was on the runway after a confrontation with a passenger. Blaming his reaction on stress, he later reached a plea agreement and avoided jail time.
And earlier this month, an American Airlines flight attendant ranted over the public address system about a possible crash while the plane was on the runway before she was subdued by passengers and crew and the jet was returned to the gate.
More:
JetBlue Pilot Suspended After Midair Meltdown