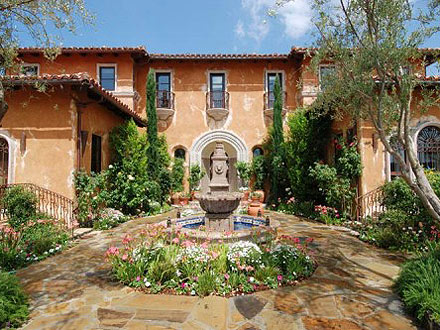 The mansion featured on The Bachelor and The Bachelorette
Courtesy Zillow
It's not your typical bachelor pad, but the mansion used as the set for ABC's The Bachelor and The Bachelorette is now up for rent, reports the real-estate website Zillow.com.
Built in 2005, the Spanish-style estate in Santa Monica, Calif., is listed at $2,100 per night, $13,225 for a week and $35,225 for a month.
Known as "Villa de la Vina," the property has six bedrooms, nine bathrooms and 8,000 square feet of living space.
In 2010, it sold for $1.7 million, according to Zillow.
In terms of scheduling, it's available while both shows are shooting elsewhere.
The Bachelorette will move production to Charlotte, N.C., the hometown of its upcoming star Emily Maynard, while this season of The Bachelor, featuring Ben Flajnik, is being shot in his picturesque Northern California stomping grounds, Sonoma and San Francisco.
Read the article:
The Bachelor Mansion Up for Rent