The air is warm and buttery as workers knead mounds of raisin-flecked dough inside the Kexerei bakery in Dresden. This is the busiest time of year but, like every other business and household in the country, the firm's bills are going up, diminishing the festive cheer.
"Wages have increased drastically, energy costs have risen, as have the prices for our ingredients – butter has doubled in price," says owner Matthias Walther. "I can't pass all that on to the customers."
It's an issue that preoccupies the German government too. Wary of the impact on the economy, it's spending around €300bn ($310bn; £260bn) on measures aimed at shielding people and industry from higher prices, particularly soaring energy bills.
A third of that sum has already been spent, and €200bn more is expected to go in the coming months.
Perhaps the most eye-catching is the promise to pay a monthly gas bill for all households and small businesses in December. In practice, that won't cover the full cost; the amount will be calculated using an average monthly September bill.
Benefits have risen and almost everyone has received a one-off payment of €300.
And, from January, gas and electricity bills will be capped. Government subsidies will allow households and small businesses to pay a lower rate for 80% of the gas they use and 70% of their electricity consumption.
For example, a family of four, living in a 100 sq m flat, would have paid a monthly gas bill of €100 last year. Now, that's €275. From January, when the cap kicks in, a government projection suggests the family will pay €175.
A similar subsidy scheme will also cap bills for industry.
Chancellor Olaf Scholz is no doubt hoping for a boost to his approval ratings at home – at their lowest level since he took office. But his spending plans haven't impressed his EU neighbours, not least because Germany has resisted proposals for an EU-wide cap on the price of gas.
Is Mr Scholz, some of his EU peers wonder, just trying to put Germany first?
"I think the opposite is the case," says Martin Dulig, economy minister for the region of Saxony, of which Dresden is the state capital.
"This is about stabilising Europe. Germany is a decisive factor in Europe's stability. We've seen the world newly divided, economic centres have shifted – look at America, look at China. We in Europe must make sure we keep up."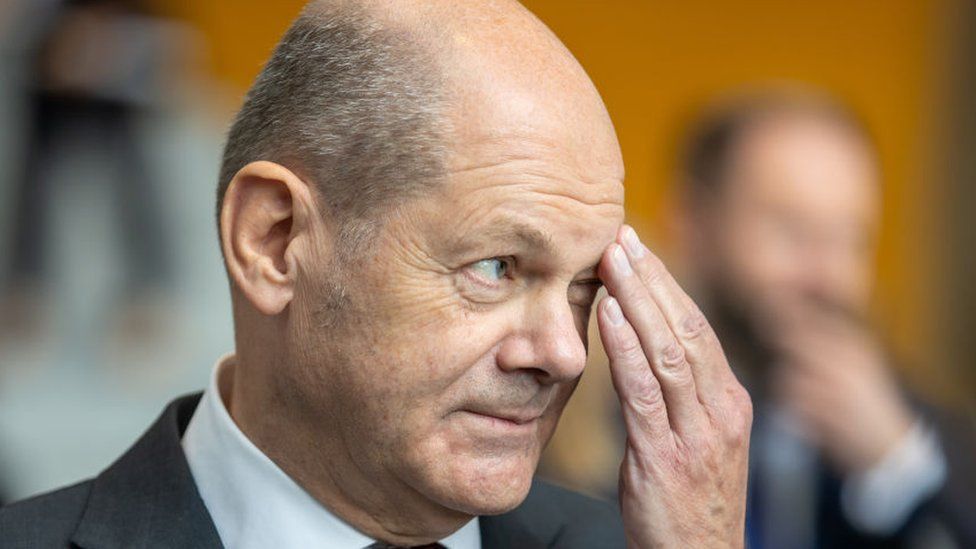 Mr Dulig's constituency lies in Germany's old communist east, where public dissatisfaction with government policy tends to be higher than the rest of the country.
"The mood is still difficult because we have a serious situation," says Mr Dulig. "For the first time we are really confronted with a social problem. If a pensioner, who only gets €850 a month, is faced with a €500 energy bill, of course she can't pay that. So it's very important that she gets help."
But the idea behind the measures is to strike a balance; despite the help, energy bills will still be higher for most. Not least because the government, having scrambled to find alternative sources of energy after years of heavy dependence on Russia, needs companies and households to keep consumption down.
Gas stores may be full for now, but the country's energy network agency says a 20% reduction in national consumption is necessary to get through the winter without problems.
So, in Dresden's main Christmas market – which reopened this year after a pandemic pause – the question for many here is not so much how to stay healthy, but how to pay those bills.
Sabine, a pensioner, says: "The government is incapable of supporting us. They tell us help is on the way, but nothing is done."
Jan, a young father, says he thinks the family will be OK, but "the gas bill hasn't arrived yet, let's see how it looks when it comes."
And, in his bakery, as loaves of Stollen – the fruit bread which is this region's Christmas speciality – rise in the oven, Matthias Walther is also having to wait and see.
It's not yet clear how much help he'll get, he says. His oven, for example, is powered by oil and, while his bill has tripled, there's no planned government subsidy to ease the burden.
There's a lot of uncertainty, he says. His own business, he thinks – he hopes – will survive. Many others, he warns, may not.
More on this story
How Germany ended reliance on Russian gas

Germans struggle with influx of Ukrainian refugees

Russian atrocities bring Nato closer than ever