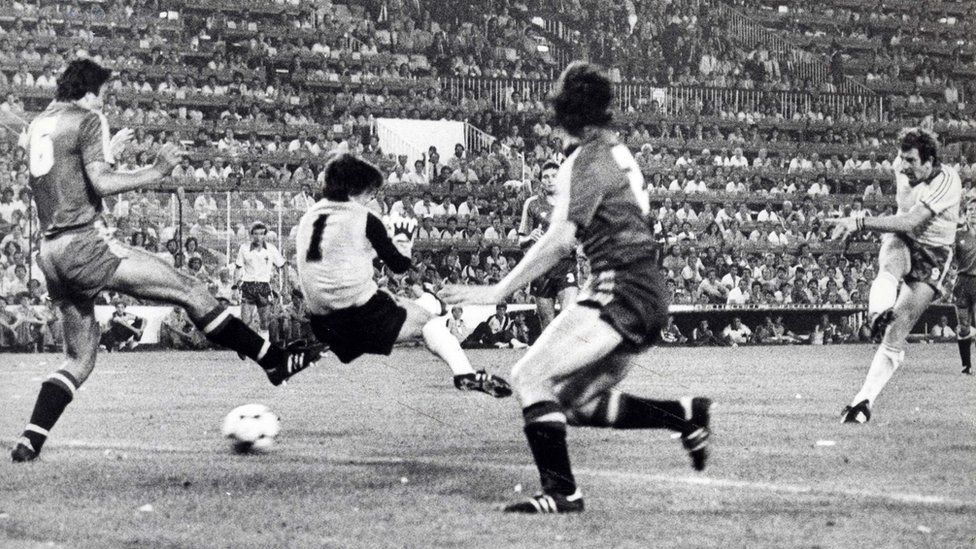 When it comes to the World Cup, we all like underdogs – the team that pulls off the shock result, knocking one of the big footballing nations down a notch.
Think Saudi Arabia against Argentina last Tuesday.
Forty years ago Northern Ireland sent shockwaves through the 1982 World Cup, beating hosts Spain and coming within one game of making the semi-final.
It was one of the great storylines of what was an epic tournament.
Back home Northern Ireland was being convulsed by the Troubles, with seemingly no end in sight to the daily death and destruction.
For a few short weeks the football team's success would provide a welcome escape from despair for many people.
While Northern Ireland may have been a divided society, the team – a mixture of Catholics and Protestants – was not.
Forward Gerry Armstrong, who would score the winner against the Spaniards, says "there were just so many characters" in the squad.
"It became that you just couldn't wait for the internationals to meet up with your mates and have some craic again," he says.
"I was fortunate playing with that bunch of lads and the camaraderie was unbelievable."
Midfielder Sammy McIlroy agrees: "The team we had, Protestant, Catholic, it didn't matter because when we got together we had singsongs, we had a good time, we all stuck together off the pitch, on the pitch.
"We never talked about anything political, we just talked about the game and what was happening in your life and your club.
"Big Gerry [Armstrong] was the band leader – before you asked anyone to sing Big Gerry was on his second verse."
Northern Ireland were in their first World Cup since 1958 – when they reached the quarter-finals – and were in a group with Honduras, Yugoslavia and hosts Spain.
Few gave them much chance of doing anything of note.
Draws against Honduras and Yugoslavia in their first two games seemed to confirm that impression and left the team needing a result against Spain in Valencia on the night of 25 June.
"We knew that we could do something against Spain – even though most people thought we had no chance, we believed," says Gerry Armstrong.
He says captain Martin O'Neill gathered the team together and told them that Spain were under pressure.
"He said: 'We'll get two or three chances in the game and we can stick one of them away and beat this team.'"
After a goalless first half, the chance came for Gerry Armstrong just after half-time.
Billy Hamilton sent in a low cross that was parried by Spanish keeper Luis Arconada, then drilled into the net by the west Belfast man.
"There was a silence after it, it might have been for a second but it seemed longer, and I can still see Norman [Whiteside]'s hands go up celebrating and Sammy Mac's hands go up to celebrate," says Gerry Armstrong.
"I thought: 'This referee's been so bad is he going to disallow it?' and I panicked and then I saw him pointing to the centre circle and the celebrations began."
'Partied until the sun came up'
Sammy McIlroy says the Spanish tried to intimidate the men in green and white.
"Spain went about it trying to bully us and they came unstuck because we had so many experienced lads in the team who could stand up for themselves," he says.
"They were doing every trick under the sun – they were pulling shirts, they were spitting at you, kicking at you."
Yet when the cards came they were given to Northern Ireland for reacting, including a red for defender Mal Donaghy with 30 minutes left.
Despite being down to 10 men, they held on for a famous win.
Armstrong remembers that back at their hotel broadcaster Jimmy Hill was waiting at the front door with Champagne.
"We went in and started partying and we partied until the sun came up and had a ball."
Hundreds of telegrams congratulating the team were sent to the hotel.
"One of them was from the taoiseach [Irish prime minister] and another one was from Ian Paisley – they were from people all over the world," says Gerry Armstrong.
"We were getting messages that there were street parties in the [nationalist] Falls Road, the [loyalist] Sandy Row, Shankill – everywhere – and you realised that we were having a huge effect on our community."
Evan Marshall, the author of the book Fields of Wonder about Northern Ireland's 1982 World Cup campaign, says the team was one the whole country could get behind.
"This was a real good news story," he says.
"As soon as you heard the words Northern Ireland on a news report you knew it was something bad but here we were being reported for something good and joyful."
Northern Ireland went into a group with Austria and a star-studded French team, with a semi-final place beckoning for the winner.
They drew 2-2 with Austria in a game they should have won, then lost 4-1 to France, although what should have been the opening goal for Martin O'Neill was ruled out for offside.
The team would go on to win the final British Championship in 1983-84, beat West Germany home and away in European Championship qualifiers and reach the 1986 World Cup.
While they were a talented group with an astute manager, their team spirit was perhaps the key to their success.
"The spirit we had in the team was magnificent – we were like a club side, not an international side," says McIlroy.
"We never thought that we had any superstars, even though Big Pat [Jennings] was one of the best goalkeepers in the world.
"But we all just stuck together and fought for each other."
Evan Marshall says that while the 1958 team is probably the best Northern Ireland ever assembled, "the fact that we were able to create a second [golden] generation is remarkable".
"Bingham managed to mould a real team spirit out of them and they played beyond themselves.
"All those guys loved each other and if you speak to any of them [they will say] they're all still friends to this day."