Over £320m in spending was approved by three former Stormont Ministers before they left office, without the consent of the Finance Department.
The BBC understands this was done using Ministerial Directions.
The money was approved by Robin Swann, Deirdre Hargey and Naomi Long, shortly before they were removed from their posts on 28 October.
Ministerial Directions are issued when senior civil servants raise questions about departmental decisions.
It is understood civil servants' concerns surrounded the affordability of what the Ministers were proposing in the absence of an agreed Executive budget.
Who is running Northern Ireland?
Stormont collapse 'exacerbating budget crisis'
According to the Department of Finance, former Health Minister Robin Swann approved £280m for health expenditure in September. He previously approved £80m of spending in July.
Former Communities Minister Deirdre Hargey spent £22.6 m on a Discretionary Support Scheme in October.
While shortly before she left office in the same month, former Justice Minister Naomi Long approved £20m for legal aid payments in October.
In all three cases former Finance Minister Conor Murphy, did not approve the funding.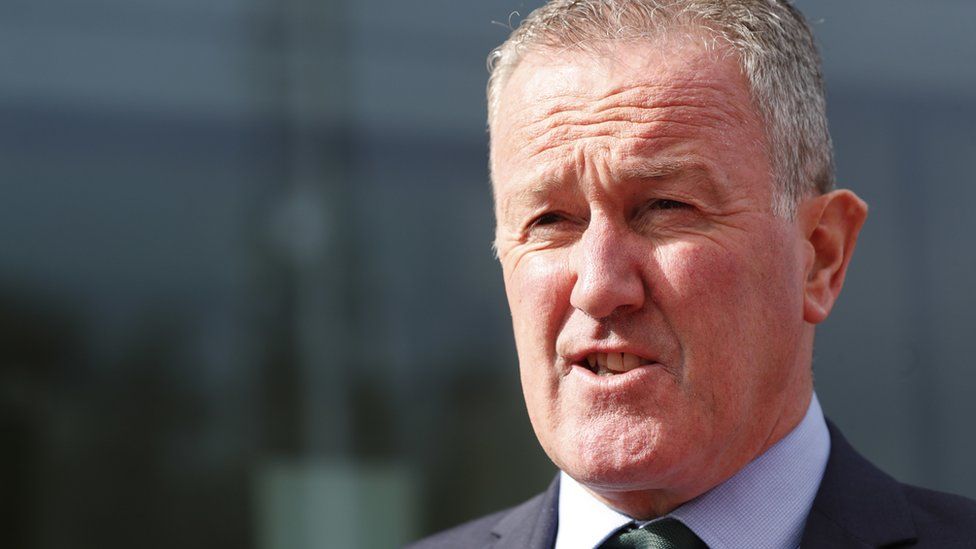 A draft budget was out for public consultation when the former First Minister Paul Givan resigned and the DUP collapsed the Executive.
The decisions were taken in the absence of an agreed budget by the Executive and at a time when the then-Finance Minister had warned about a massive projected overspend.
It was set at £660m pounds at the time but has since been reduced to £330m.
That money will now be cleared through an advance from the Treasury but the cash will be taken from next year's Stormont budget.
Fourteen Ministerial Directions were issued in total from March until October, five of which came in the final weeks before department ministers left office.
Northern Ireland secretary Chris Heaton-Harris has criticised the decisions taken by Ministers before they left leaving behind a "hole" in the Stormont finances
He has also warned of significant spending cuts in Education as he set a new budget for the Stormont departments.
More on this story
Stormont faces £660m overspend warns NI minister

Education Department told to make cuts to spending

Who is running Northern Ireland?