The Broncos' coaching search to replace Nathaniel Hackett keeps coming up empty.
Denver was among the first teams to interview the two most high-profile candidates of this coaching cycle, Jim Harbaugh and Sean Payton, but nothing has come of it. 
Now it appears 49ers defensive coordinator DeMeco Ryans has rebuffed Denver's interest as he reportedly is the favorite to land the Texans job. The news comes from the Denver Gazette's Woody Paige, who had an interesting way of describing Ryans' placement among the Broncos' preferred coaching candidates:
DeMaco Ryans tells Broncos he is not interested. He was their third No. 1 choice.

— Woody Paige (@woodypaige) January 30, 2023
Benjamin Allbright of Denver's KOA radio reports Ryans was effectively the Broncos' second choice, after Harbaugh, and as of late Monday had not formally pulled out of the Denver search although every indication was that he would. 
Also to go a step further in pushing back against uninformed reporting…

While I personally DO expect Demeco Ryans take the Texans job, neither he nor his agent Jimmy Sexton has formally (or otherwise) pulled his candidacy from the Denver Broncos job. https://t.co/4E0US1ph4Y

— Benjamin Allbright (@AllbrightNFL) January 30, 2023
MORE: Broncos coaching rumors: Latest news on Sean Payton, Jim Harbaugh, other candidates after Nathaniel Hackett firing
Regardless of where Harbaugh, Ryans and other potential candidates land in the pecking order, it's clear Denver's new ownership group is having an issue finding a replacement for Hackett. The team is coming off a 5-12 record with Russell Wilson at quarterback after a trade that cost the Broncos the No. 5 overall pick (Denver still has a first-round pick via trade with the 49ers).
Denver has some young talent to work with but, as noted by Paige, the franchise doesn't have a great track record of hiring coaches since 2008. Whoever decides to take the franchise over must be given time to turn the franchise around.
The Sporting News looks at the targets the Broncos haven't hit to this point:
MORE: Jim Harbaugh NFL rumors tracker: Latest news on Broncos, Panthers, other fits for Michigan coach
Jim Harbaugh
Harbaugh reportedly remains the Broncos' top choice for its coaching vacancy after interviewing virtually with the team on Jan. 9, even after he withdrew his name from consideration on Jan. 16.
Ian Rapoport and Tom Pelissero of NFL.com reported Broncos owner/CEO Greg Penner has remained in contact, with the latter flying to Ann Arbor, Mich., to interview him in person. Reports indicate Penner didn't make an offer while meeting with Harbaugh, but that the door is still open for him to return to the NFL.
Ryans' rebuff of the Broncos will only further stoke rumors of a Harbaugh-Broncos partnership.
DeMeco Ryans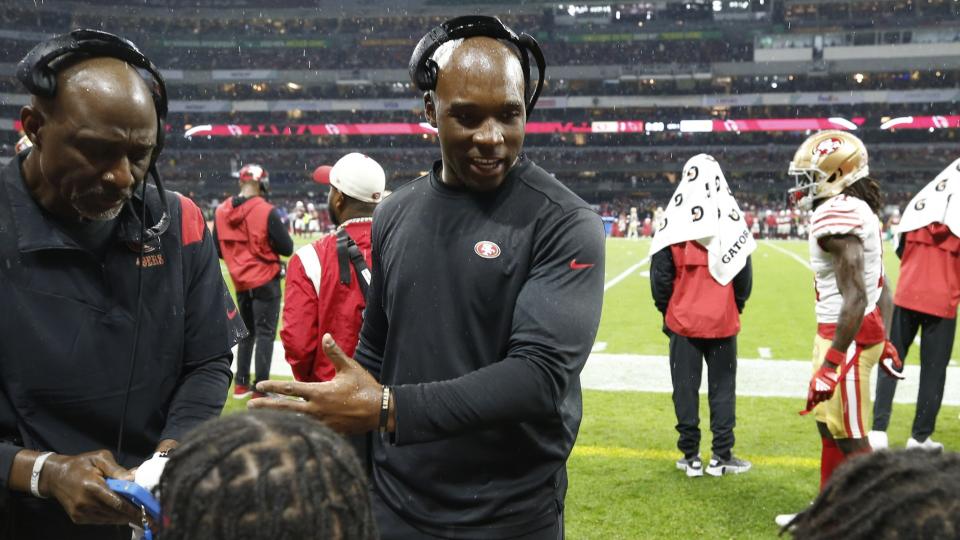 Ryans reportedly has turned down the Broncos, if not officially then at least in practice. Several outlets have reported the 49ers defensive coordinator is expected to become the head coach for the Texans, who for the second time in as many years fired their head coach after only one season (David Culley in 2021 and Lovie Smith in 2022).
Ryans seems a more natural fit for the Texans, considering he is familiar with the franchise that selected him 33rd overall in the 2006 NFL Draft. He was a starter in Houston from 2006 through 2011 and reportedly was Houston's top choice in the coaching carousel.
Neither Ryans nor the Texans have announced his hiring, though his former teammate J.J. Watt seems to have given an indication that's where Ryans is heading:
— JJ Watt (@JJWatt) January 30, 2023
Sean Payton
Payton has been among the most interesting coaching candidates in the league, not only because he isn't actively coaching, but also because any team that acquires him would have to do so via trade with the Saints, with whom he is still under contract.
That might spell trouble for the Broncos, who already parted ways with several picks to acquire Wilson in a trade with the Seahawks. That said, the quarterback has reportedly preferred Payton as the Broncos' coach to help him improve at the position.
Whether Payton is interested in the Broncos remains to be seen, though the former Saints coach-turned-Fox analyst may have given an answer as to what his plans are for 2023 ahead of the AFC and NFC conference championship games:
"What are we doing here? Coach Payton, 'sup?'" – @PSchrags@SeanPayton gives us the latest on all things… Sean Payton ⬇️ pic.twitter.com/1zv5rBdEyU

— FOX Sports: NFL (@NFLonFOX) January 29, 2023
Dan Quinn
The Cowboys defensive coordinator interviewed with the Broncos for the second time in as many years, though reports indicate, like last time, Quinn did not make the second round of interviews. It's uncertain how much of a priority he was in Denver, but the fact he led one of the league's top defenses in turnover and sack production was clearly worth something.
That said, Quinn — who was more tied to the Cardinals job — told each of the teams that interviewed him he was to remain in Dallas for a third year:
#Cowboys DC Dan Quinn informed interested teams that he is staying in Dallas, per sources.

Quinn was a top candidate for the #Cardinals' head coaching job and also interviewed with the #Colts and #Broncos. But his heart is in Dallas and he wants to win a Super Bowl there. pic.twitter.com/yl7gXtYIOv

— Tom Pelissero (@TomPelissero) January 26, 2023
MORE: Dan Quinn returns to Cowboys: Why DC remained in Dallas
Other potential Broncos coaches
The Broncos reportedly had eight coaching candidates lined up for interviews, with Harbaugh, Ryans, Quinn and Payton all rebuffing their interest in some manner. But Denver is not simply settling, as Rapoport and Pelissero reported on Saturday that the team informed four coaches they were no longer under consideration:
Rams DC Raheem Morris, former Stanford coach David Shaw, former Lions and Colts coach Jim Caldwell and Broncos DC Ejiro Evero interviewed for the job, but all were told this week the team was going another direction.
Who does that leave for the Broncos? Harbaugh has reportedly not provided a definitive "No," and Payton remains a potential choice as well, if the Broncos can clear the Saints' asking price. Other potential candidates include Eagles defensive coordinator Jonathan Gannon, Giants offensive coordinator Mike Kafka or Bengals offensive coordinator Brian Callahan.
In that sense, it appears the Broncos are starting fresh. That could be the difference in Broncos fans calling this coaching search thorough, as opposed to frustrating.