Novak Djokovic survived a four-set battle with Enzo Couacaud to reach the third round of the Australian Open but concerns will be growing over the state of his left hamstring.
Djokovic took a medical timeout during the second set and appeared distinctly uncomfortable, grimacing and stretching, but he avoided joining Rafael Nadal and Casper Ruud in making an early exit, coming through 6-1 6-7 (5-7) 6-2 6-0 to set up a clash with Grigor Dimitrov.
The former world No 1 also called for a drunk spectator who was heckling him to be thrown out, going over to the chair umpire to voice his frustrations about a heckler in the crowd.
"That guy, he is drunk out of his mind. He's not here to watch tennis, he's provoking," Djokovic said. "So I'm asking you, what are you going to do about it?"
Four men in fancy dress were later escorted from Rod Laver Arena.
Djokovic came into the tournament with the injury having picked it up playing in Adelaide a fortnight ago.
He eased through his first-round match against Roberto Carballes Baena and said afterwards that his leg was improving, and there appeared to be no alarms in the first set, with Couacaud the cause for concern after rolling his ankle.
But, during the second, Djokovic started to show signs he was feeling the injury, calling for the trainer at 4-5 and heading off court.
The Serb has a reputation for managing apparently miraculous recoveries from physical ailments, winning the title here two years ago after tearing an abdominal muscle for example, but he was certainly not moving anywhere near his normal levels and pulled up several times while running.
He managed to find a way through this one despite losing a second-set tie-break he seemed to be in control of but there must be serious question marks about his chances of winning a 10th title in Melbourne.
American Jenson Brooksby caused the second big shock of the Australian Open by knocking out second seed Casper Ruud.
A day after Rafael Nadal limped to defeat against another American, Mackenzie McDonald, Brooksby beat Norwegian Ruud 6-3 7-5 6-7 (4-7) 6-2 for the biggest victory of his career, recovering from missing three match points in the third set.
The result means the men's event has lost its top two seeds before the third round for the first time at any Grand Slam since 2002.
"Casper's a warrior, I knew it'd be a great battle out there. I was pretty confident with my level and just wanted to have fun out there and see what could happen," said Brooksby.
"I was really proud of my mental resolve out there after the third-set battle didn't go my way to turn it around.
"Last year, I had COVID, the day before I was due to fly out, and that sucked. But hopefully this is the first of many years to come."
Ruud would certainly have had higher hopes for the tournament having reached two Grand Slam finals last year, at the French Open and US Open.
But he struggled from the start with the unorthodox style of 22-year-old Brooksby, who is named after former British racing driver Jenson Button.
Brooksby, who finally clinched the win on his fifth match point raised weary arms in the air, and then said: "I was really proud of the mental resolve after the third set didn't go my way."
Ruud admitted a lengthy exhibition tour with Rafael Nadal may have compromised his Grand Slam chances after joining the Spaniard in making an early exit.
The Norwegian said: "It's very easy to sit here now and say that was bad for maybe both Rafa and I due to the fact that we lost early here.
"(The preparation) was maybe not enough to be able to perform well here this year. So it will be considered by me and my team what we will do in December this year, and if this was the right way to prepare for the Australian Open or not.
"Maybe it looks like it was not the right way, but there are many factors that come into play."
Home favourite Alexei Popyrin was brought to tears as the crowd at the John Cain Arena chanted his name after he beat eighth seed Taylor Fritz in a five-set thriller.
"This is the dream for me. And I don't want to wake up at all," Popyrin said in his on-court interview.
"I have won as many matches this year as I won the whole of last year, and it's only January. I don't want that feeling that I had last year ever again. I love this feeling, I want more of it."
No top two seeds for first time in 23 years
None of the top two seeds (1. Rafael Nadal and 2. Casper Ruud) will feature in the third round of the Australian Open for the first time since 2002 (1. Lleyton Hewitt and 2. Gustavo Kuerten).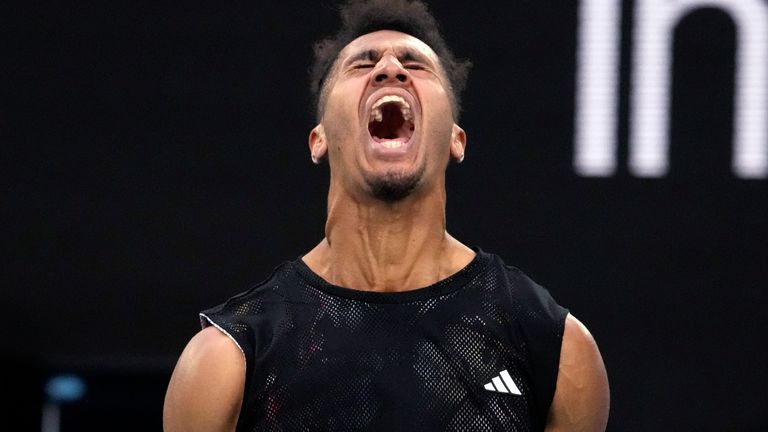 American lucky loser Michael Mmoh booked his place in the third round with a 6-7 (1-7) 6-4 6-3 6-2 win over 12th seed Alexander Zverev on Margaret Court Arena.
"I had my bags packed and my flights booked back to the U.S.," Mmoh said in his on-court interview. "Life is crazy. When you think everything is looking dark, there's light at the end of the tunnel."
It has been a hugely successful tournament so far for the American men, and Brooksby was joined in the third round by Tommy Paul, JJ Wolf – who upset seeds in Alejandro Davidovich Fokina and Diego Schwartzman, respectively – and 20-year-old Benjamin Shelton, who is on his first ever trip outside the US.