Everton owner Farhad Moshiri insists he retains faith in manager Frank Lampard and the board of directors as he seeks to quell rising tensions among supporters ahead of a potentially season-defining home encounter with Southampton this weekend.
Lampard insisted last week he would never seek reassurances over his job as Everton boss after the 4-1 defeat to Brighton brought fresh speculation about his future.
There was a febrile atmosphere within Goodison Park after Everton conceded three goals in seven second-half minutes to slump to a dispiriting defeat which has left them 18th in the Premier League.
The focus shifted to the FA Cup last weekend but the away tie at Manchester United resulted in a 3-1 loss and failed to alleviate the pressure that is firmly on Lampard as the Toffees face the prospect of another relegation scrap.
Supporters have banded together to prepare a sit-down protest in the Park Stand after this weekend's pivotal Premier League encounter with bottom-of-the-table Saints at Goodison Park.
Moshiri has now taken the opportunity to respond to the growing discontent in the fanbase by penning an open letter addressed to the fans' forum, who had pleaded for direct communication last week.
"I have faith in the work being done not only by our manager, but our director of football (Kevin Thelwell) and our board of directors," he wrote in response.
"That faith is based on my knowledge of the depth and quality of work being done both at Finch Farm and the Royal Liver Building – and of the plan that is in place.
"I am confident that we have skilled, experienced and focused professionals at all levels of the club.
"We are all agreed that our current league position must and will improve.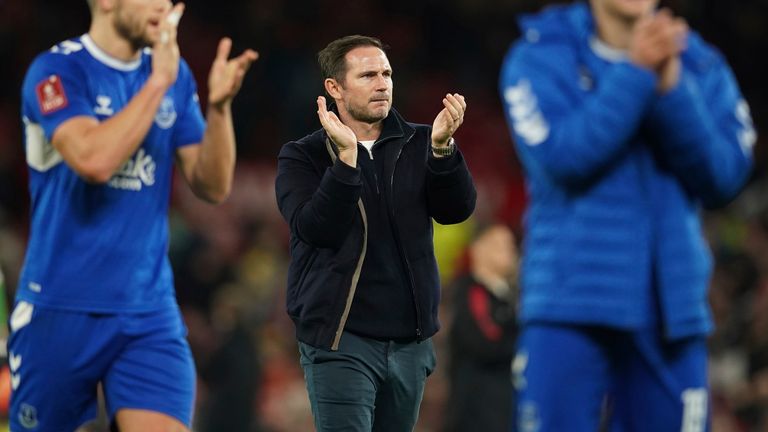 "The focus of myself, the club and the fans is aligned – a better Everton – and I am confident we can move forward in a constructive and positive manner.
"I welcome the plans for the Fan Advisory Board to host a series of sessions with fans to gather feedback, thoughts and concerns – of which the Forum is a part."
The letter will, however, do little to de-escalate tensions among the fanbase, with the Fans' Forum responding "Our current situation is unacceptable. It's time for a better Everton".
Collective fans group: We don't need hollow words
Rob Dorsett takes us through the current transfer situation at Everton and what the club may be thinking in the short and long-term.

The NSNOW (a name taken from the club's motto Nil Satis Nisi Optimum) group, who have organised Saturday's protest, want Moshiri to "make the changes necessary to rescue Everton".
The collective Everton fans group have issued its response to the open letter from Moshiri.
"Blues who daily live and breathe Everton see no evidence supporting Moshiri's confidence 'at all levels of the club.'
"We know our club is declining competitively. We don't need hollow words. We need change. Doing nothing is no longer a viable strategy for Moshiri. All Together Now."
Lampard said last week the nature of conversations he had with the club's hierarchy last Wednesday would remain private, but added that he did not need to ask about his own position despite the perhaps itchy finger of club owner Moshiri, who has sacked five managers in almost seven years.
The Good Morning Transfers panel discuss whether winger Arnaut Danjuma is the player Everton need to lift them in the Premier League.

Everton's problems stretch back much further than the 11 months Lampard has been in charge and many fans have directed their anger at the club's board for what they perceive as years of mismanagement.
Lampard took over last January after the ill-fated appointment of Rafael Benitez, inheriting a club that was 16th in the table at the time. Despite what the league table might say, he insisted he has brought about improvement in the time since.
"I wasn't expecting huge change," he said. "Every improvement would be step by step and then maybe one day you go, 'Oh, here it is, here's what it looks like'. But in my opinion, yes (there's been improvement)."
'Doing nothing is no longer a viable strategy'
Tim Sherwood thinks club legend Duncan Ferguson would get more out of Everton's squad than Frank Lampard at this moment in time.

Sky Sports' Ben Grounds:
More than 67 fan and social media groups, plus 21 official supporter clubs, have combined to back the protest, which had originally been planned for next month's match with Arsenal only for a chastening home defeat to Brighton to accelerate their plans.
"Since the Brighton home defeat there has been a widespread realisation and agreement that it is only Everton fans, as true custodians of the club, who can force Farhad Moshiri to make the changes necessary to rescue Everton," said a statement.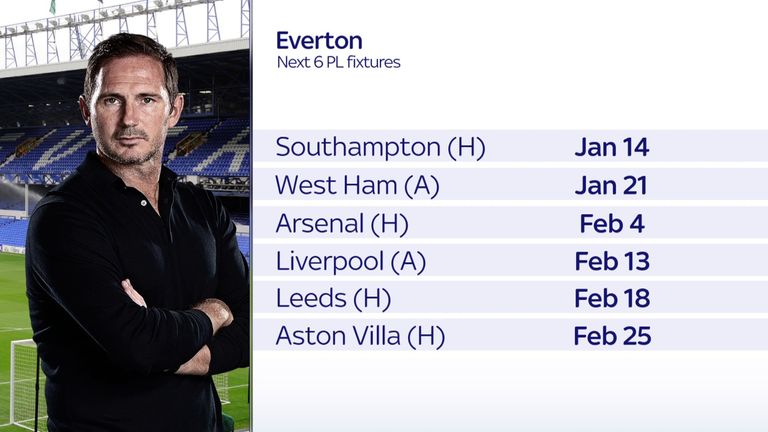 "We will continue to provide the team and manager with the backing Evertonians are renowned for.
"However, we can no longer tolerate the failure of the club's owner Farhad Moshiri to address the glaring leadership deficiencies at the chair, board and executive levels.
"Doing nothing is no longer a viable strategy for Farhad Moshiri and Everton."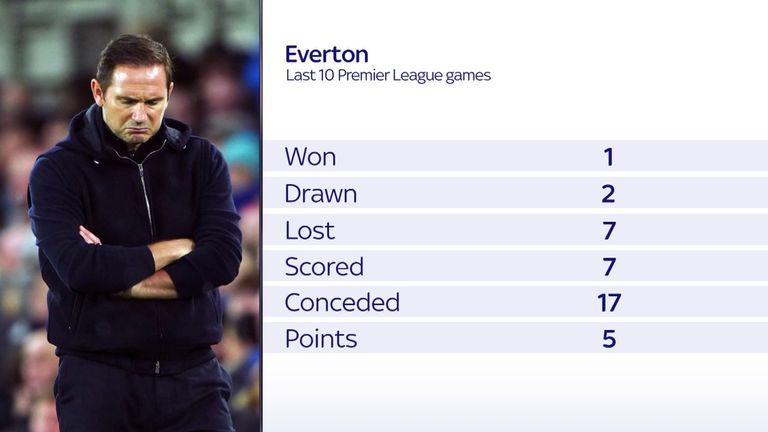 Such hopes appear forlorn, however, as Moshiri has resisted previous protests aimed at forcing his hand and, in any case, the club's Articles of Association do not allow for the immediate, wholesale 'sacking' of the board which, and even if there was a willingness to carry it out, would take several months.
Moshiri is approaching the seven-year anniversary of him taking control at Goodison Park and during that time there have been nine changes at board level, although the key figures the protestors are targeting, chairman Bill Kenwright and chief executive Denise Barrett-Baxendale, have remained.
The sit-in protest planned by a group of supporters for after Saturday's must-win match at home to fellow strugglers Southampton will call for the owner to make sweeping changes at boardroom level.
Another open letter no longer feels anywhere near enough. As nothing but the best is, and for too long, Everton have fallen far, far too short.