The relationship status of Pere and Mercy, continues to be a subject of fascination and speculation among their fans and followers.
The latest chapter in their ongoing saga unfolded recently when Pere took to Twitter with a post that sparked widespread speculation. His tweet, simply stating he was missing someone, immediately set the rumor mill into overdrive. While guesses varied, a significant number of people believed the tweet was subtly directed at Mercy.
Adding fuel to the fire, Mercy responded to Pere's tweet, which only intensified the speculation that she was the subject of his message. However, in a twist that has become typical of their enigmatic relationship, Mercy deleted her response shortly thereafter. Despite her attempt to retract her reply, eagle-eyed netizens had already captured screenshots, preserving the fleeting interaction for posterity and further cementing the belief in their relationship.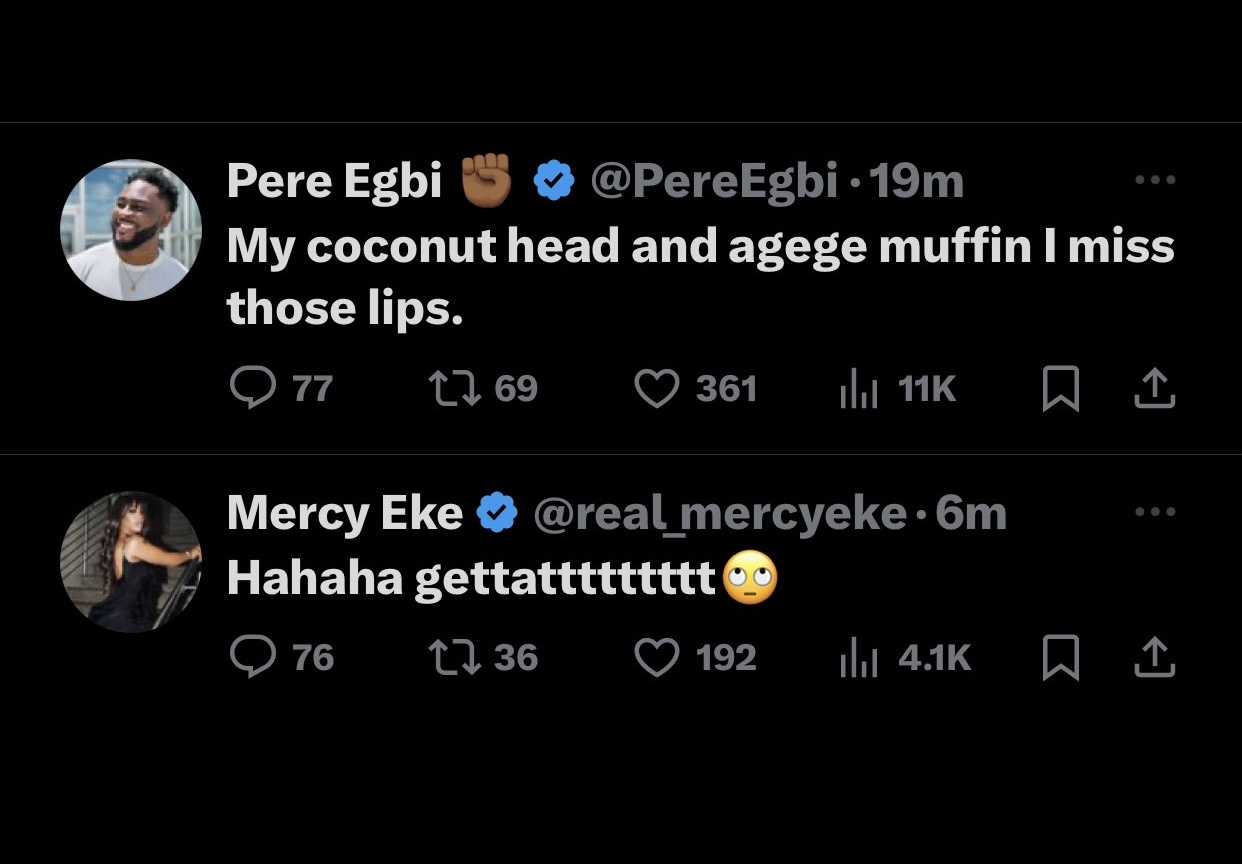 This incident is just the latest in a series of events that have kept fans on their toes. Just last week, Pere was seen in a video inside Mercy's new home, specifically in her pantry. His admiration for how she had personalized her pantry, using her name to label her cereals, was seen as an intimate glimpse into their relationship, suggesting a level of closeness and familiarity that goes beyond mere friendship.
However, the path of their rumored relationship hasn't been straightforward. There was a period of uncertainty when both Pere and Mercy unfollowed each other on social media platforms. This action, coupled with cryptic posts shared by Pere on Twitter, led many to speculate that they might have parted ways.
Adding another layer to the narrative, Mercy received an unexpected gift from a mysterious sender. The secret nature of this admirer set tongues wagging, with many jumping to the conclusion that Pere was behind the gesture. However, he was quick to clarify on Twitter, stating unequivocally that he was not the sender of the gift. This denial left fans puzzled and questioning the true nature of their relationship.