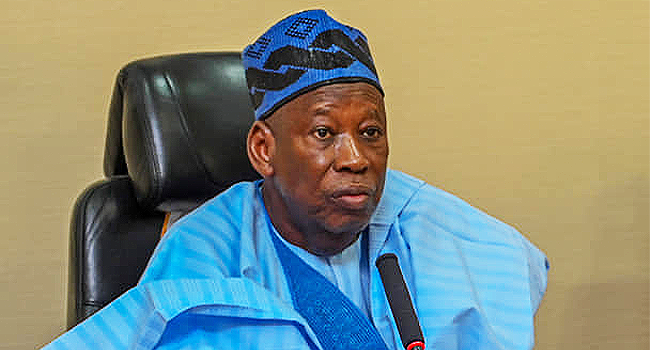 National Chairman of the All Progressives Congress (APC), Abdullahi Ganduje, has expressed optimism that Nigeria will experience growth under President Bola Ahmed Tinubu's administration.
In a statement via his Chief Press Secretary, Edwin Olofu to celebrate the country's 63rd independence anniversary, Ganduje called on Nigerians not to despair.
According to him, the APC-led administration is putting measures in place to reposition the country to achieve growth and development.
He further urged Nigerians to sustain the culture of peaceful coexistence to ensure the unity and cohesion of the country.
"On behalf of the entire members of the APC, I wish to extend my heartiest congratulations to all Nigerians.
"Both at home and in the Diaspora on the occasion of the 63rd Independence Day Anniversary celebrations. I rejoice with you. I salute you all.
"Today is indeed an auspicious day as it marks an epoch in the life of our dear nation.
READ ALSO: 63rd Independence: Talents, Doggedness Of Youths Have Kept Nigeria From Failing — Atiku
"Sixty-three years ago, on this very day, our beloved country was granted independence to chart its destiny and build a new nation," Ganduje said.
The former Kano State Governor who said the journey so far has been characterised by opportunities, prospects and challenges, added that the Party would remain true to its campaign promises to Nigerians.
"The present administration led by President Tinubu is ready to live up to the renewed Hope manifesto of the APC – to reposition Nigeria towards sustainable growth, development and economic prosperity.
"Fortunately, the president has hit the ground running to fix the infrastructural and economic reversals of the previous years.
"Under this administration, Nigerians can rest assured that it will be fine again, that their worries will be made a thing of the past, that both the youth and aged will be well again.
"There will be sufficient jobs with decent wages, medicare, housing and other basic infrastructure that can guarantee the citizenry a better life," he added.