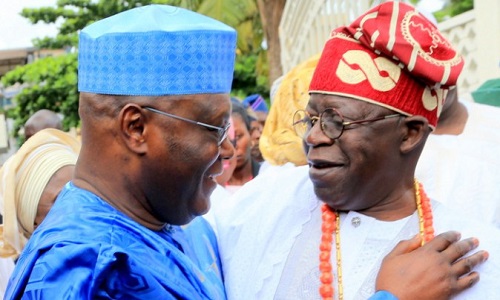 The 2023 presidential candidate of the People's Democratic Party (PDP), Atiku Abubakar, says President Bola Ahmed Tinubu cannot use the excuse of privacy law to stop the release of his academic records from the Chicago State University (CSU).
Atiku stated this in his reply to Tinubu's objection to the order of Magistrate Judge Jeffrey Gilbert of the United States (US) District Court.
According to him, Tinubu's objection was incompetent and lacking in merit.
Recall that, in a bid to deny Atiku's request, Tinubu had amongst other grounds, submitted that Judge Gilbert erred in directing the CSU to release documents bordering on his Diploma certificate, transcripts and admission letter.
But Judge Gilbert pointed out that the case of Atiku has merit as it has to do with Tinubu's qualification for the 2023 polls, which he won.
Tinubu, dissatisfied, last Thursday, begged a District High Court presided by Judge Nancy Maldonado to delay the enforcement of the order till Monday, September 25, when he would formally file his objection.
However, at Monday's proceedings, Tinubu, amongst others, argued that the granting of the order violates his right to privacy and breached the US law regarding the release of academic records.
READ ALSO: Disclose Only My Certificate To Atiku, Not Transcript, Gender, Admission Records – Tinubu Begs US Court
Specifically, Tinubu had argued that what the discovery Applicant seeks is intrusive because educational records are private and protected from disclosure under the Federal Educational Records and Privacy Act, 28 U.S.C. § 1232(g) ("FERPA").
Reacting, Atiku argued that the law of privacy pleaded by Tinubu to stop the release of his academic records was not relevant and tenable in this instance.
Angela Liu, Atiku's lawyer, in her reply, pointed out that the FERPA and analogous state laws do not create an independent privilege for educational records and cannot serve as a shield against a court-issued subpoena.
"The assertion of a privilege or privacy interest under FERPA is a nonstarter; the statute does not give individuals any enforceable rights.
"FERPA does not provide a privilege that prevents the disclosure of student records," the application stated.
He further argued that Tinubu cannot plead protection when he "has placed its educational records at issue, ECF 40 at 25-26 (explaining that Intervenor put his diploma at issue by submitting it to INEC and Tinubu's records have already been introduced into the Nigerian proceedings, including by Tinubu himself, and widely published in the media)."