One of the most popular hair kinds is Vietnamese Hair Bundles. Its production method is professional and streamlined because of its origin.
Have you ever thought about what types of hair you should do if you want to start your hair business? Then this is the post for you! The quality of Vietnamese hair bundles – the primary topic today – will astound you. 
What are hair bundles?
Hair bundles are groupings of high-quality hair extension wefts that have been packaged together and marketed for use in weaves. Hair bundles typically weigh 3.5 oz (100 grams) and range in length often from 10 inches to 32 inches. Bunches of Vietnamese hair are versatile and may be tied, dyed, or any other way you desire.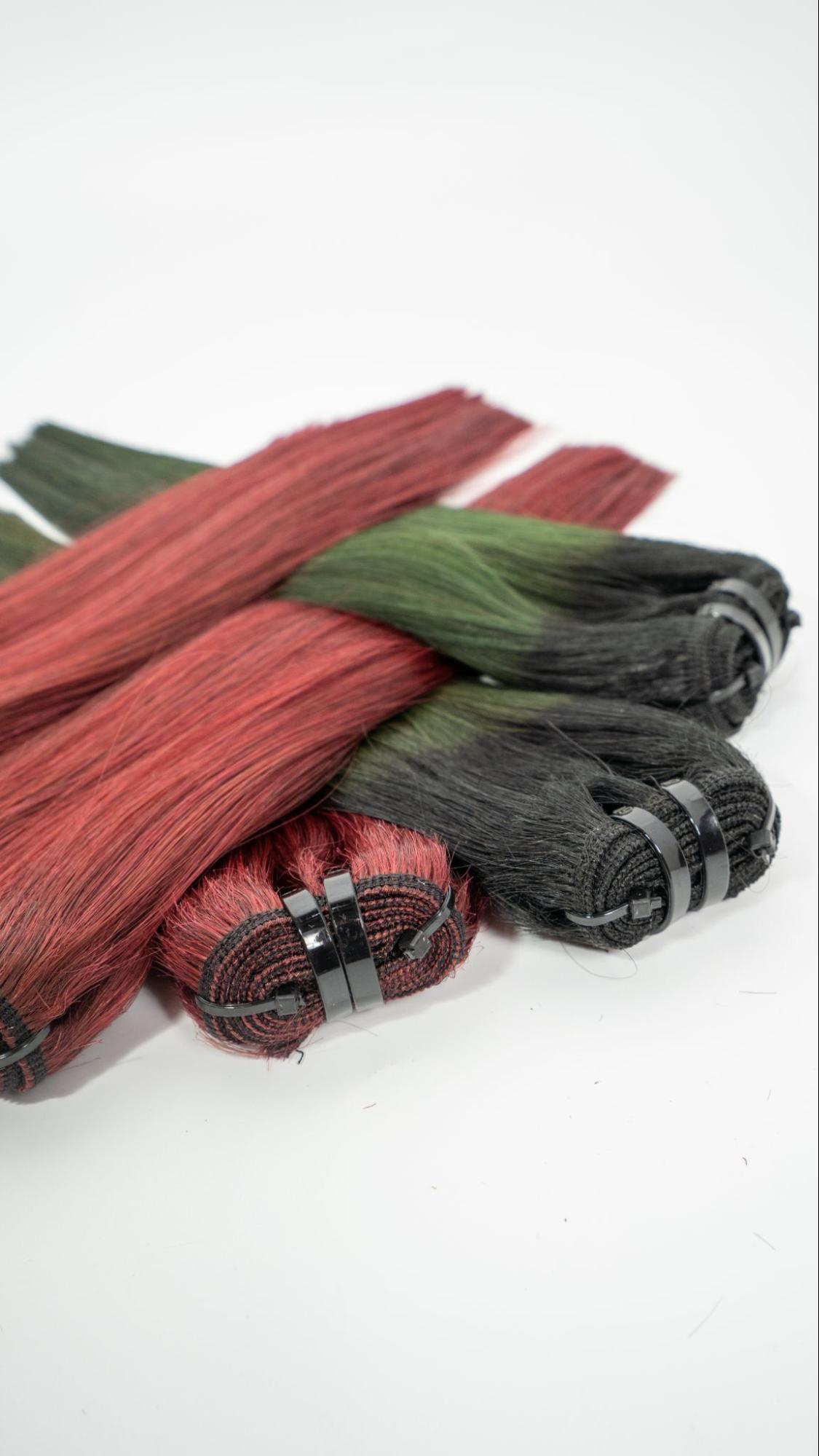 Types of bundles 
Vietnamese hair bundles are split into two origin types: Virgin hair and Remy hair.
Vietnamese virgin hair bundles are those that have undergone no processing and are completely undamaged, and just one donor was used. Hair must adhere to specified standards. For instance, having never been subjected to chemical, color, bleach or dye processing. Vietnamese virgin hair bundles resemble the natural hair that people have when they are born.
Vietnamese Remy hair bundles are hair extensions that have all of their cuticles intact. Cut from a minimum of two donors and processed beforehand. The cuticle is still present. Additionally, the natural cuticle orientation of the hair is preserved as the hair extensions are meticulously hand strung from root to tip. Thus, they remain tangle-free and seem very natural and glossy.
Vietnamese hair bundles are divided into two main texture: Straight and Curly
Bone Straight Hair
Bone Straight Hair is our current hottest selling and trending hair on the market. Especially loved by African wholesale hair sellers for its high quality and long durability.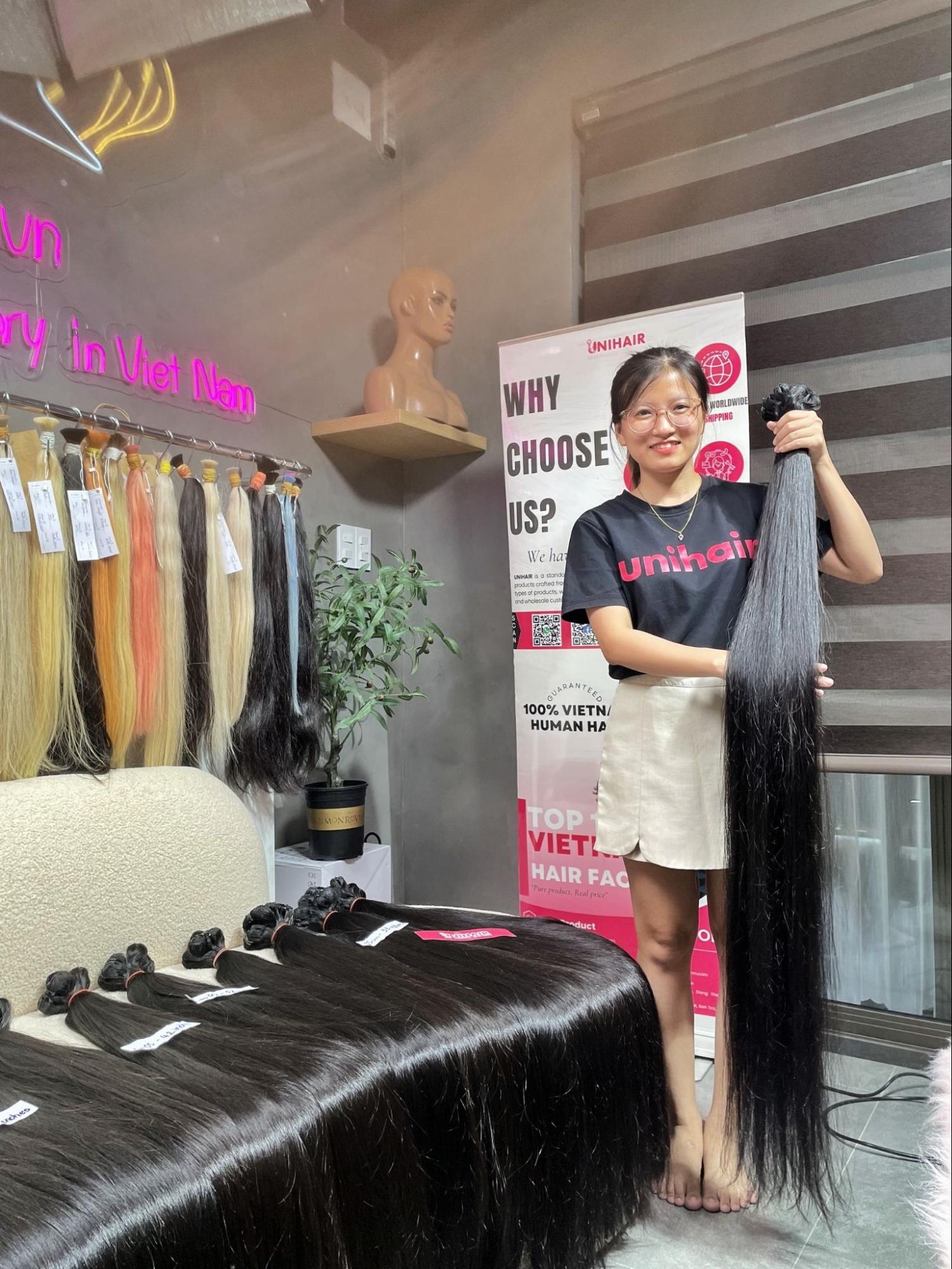 Curly Hair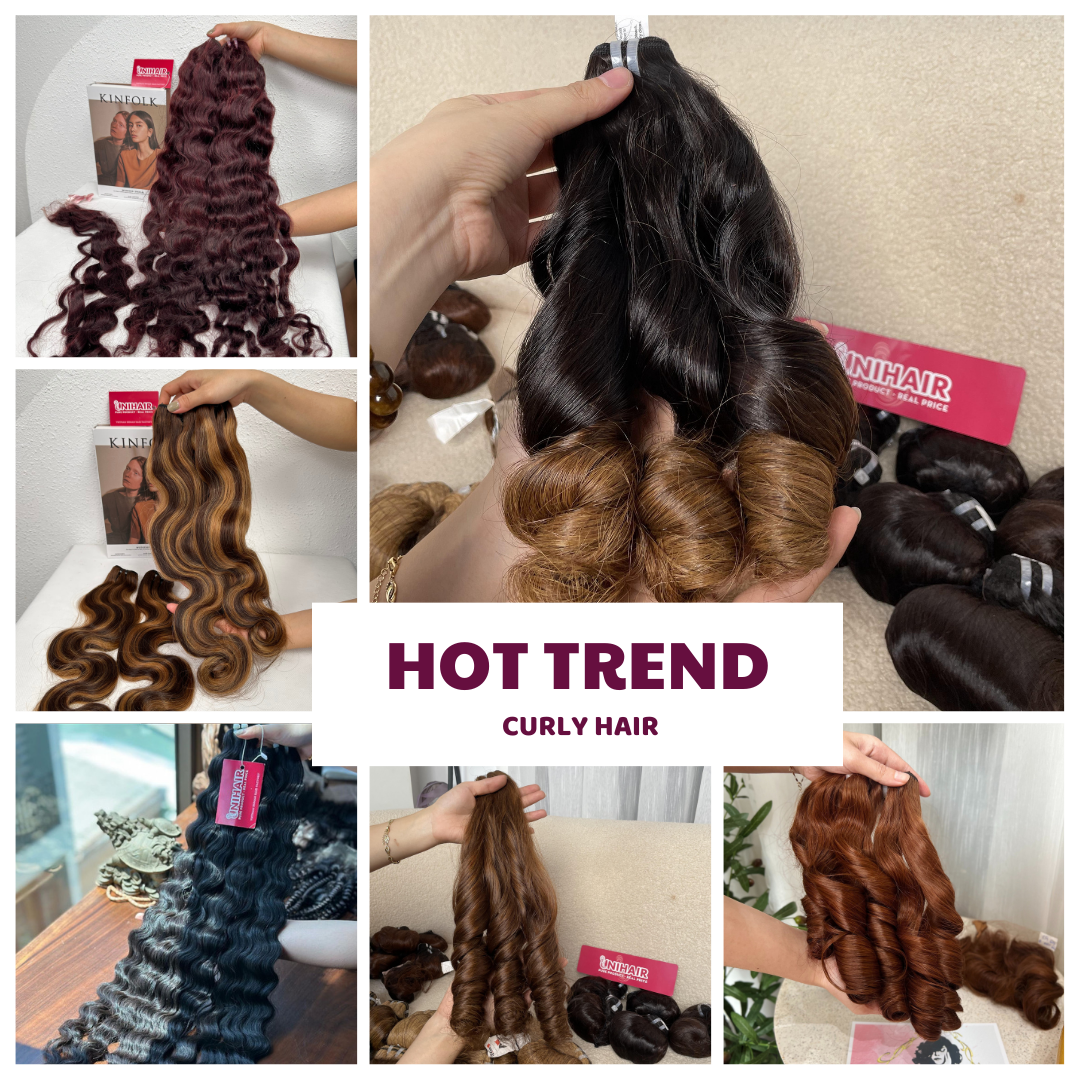 Vietnamese hair bundles are of excellent quality
The quality of Vietnamese hair bundles is by far the most important feature when compared to other hair bundles from other countries. Bunches of Vietnamese hair are quite distinctive in terms of hair texture since they are straight, smooth, soft, and silky. Vietnamese hair bundles have an average lifespan of 3 to 5 years, which is exceptionally lengthy. 
Vietnamese hair bundles are simple and quick to install and remove, regardless of whether you have straight, curly, or wavy hair. You'll be pleased by how much you enjoy the quality after utilizing Bunches of Vietnamese hair a few times!
The cost of Vietnamese hair bundles is affordable
Because the suppliers are already in Vietnam, there is no need to import hair from other nations. Which lowers the production costs of Vietnamese hair bundles. Additionally, Vietnam is regarded as having affordable labor and transportation expenses. 
10 Steps To Make Hair Bundles 
Step 1: Sorting
Step 2: Pulling out hair
Step 3: Making the weave
Step 4: Tying a bundle
Step 5: Soaking the hair
Step 6: Washing the hair
Step 7: Drying the hair
Step 8: Making hairstyle in high temperature
Step 9: Checking process
Step 10: Packing hair products
Step 1: Sorting
Hair after being collected from the women will be tied into bundles so that the hair bundle at this time will have hairs of different lengths. When they arrive at the hair factory, workers will begin to sort the hair according to the exact length, which helps to make the hair even and beautiful in the finished product to meet the needs of the customer.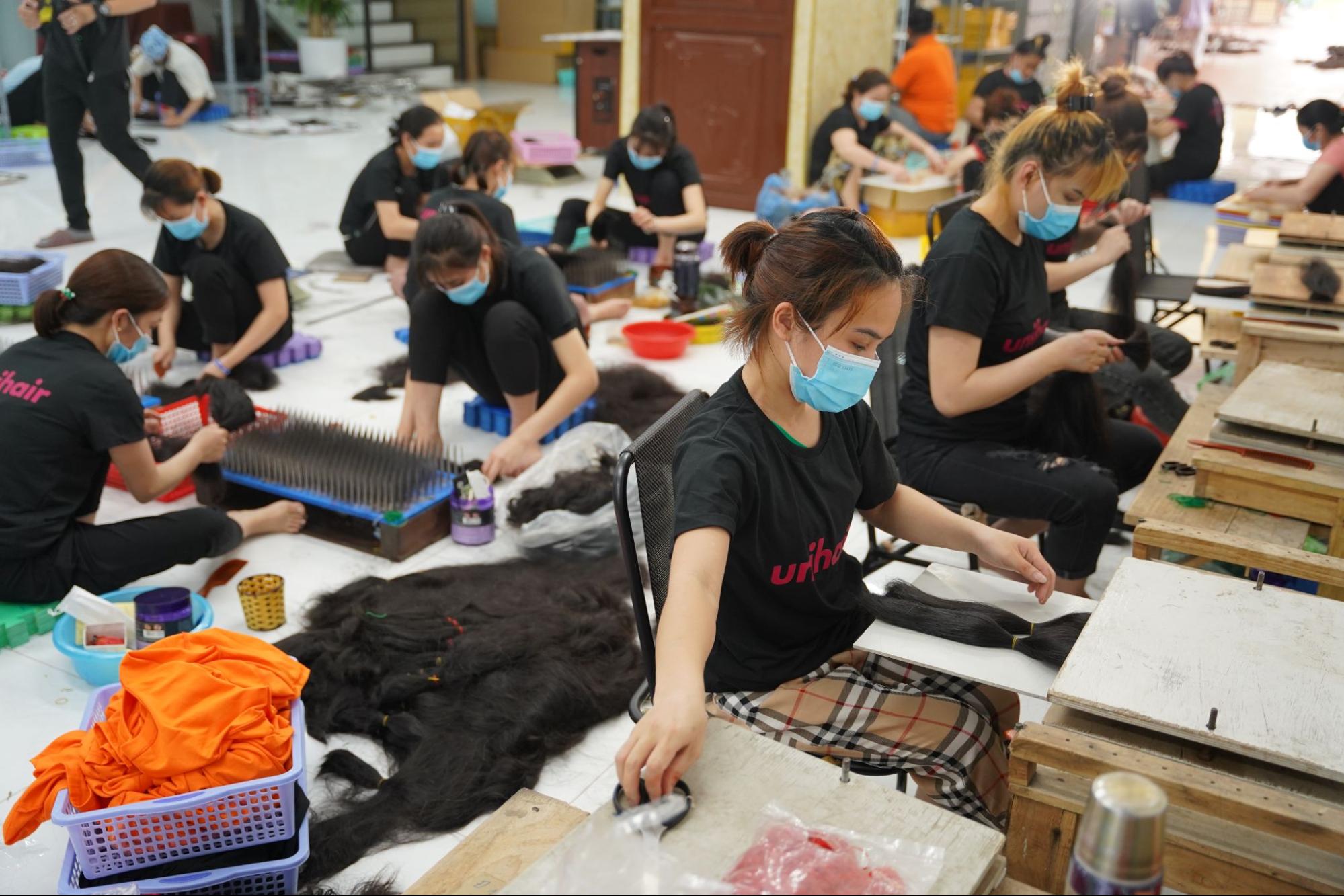 Step 2: Pulling out hair
To ensure that there are no short hairs in the bundle, workers will take out the fibers to remove unqualified short hairs to help the bundle set the desired length. Then the hair will be professionally trained workers to arrange the first and last part in one direction to produce a high-class remy hair product.
Step 3:  Making the weaving
This is an important step to create a weft bundle. The hair will be sewn by skilled workers. The workers must be proficient with the sewing machine for a long time to produce a perfect product. In order to produce more and more high quality weft bundles, we are always learning new sewing technologies for constant development.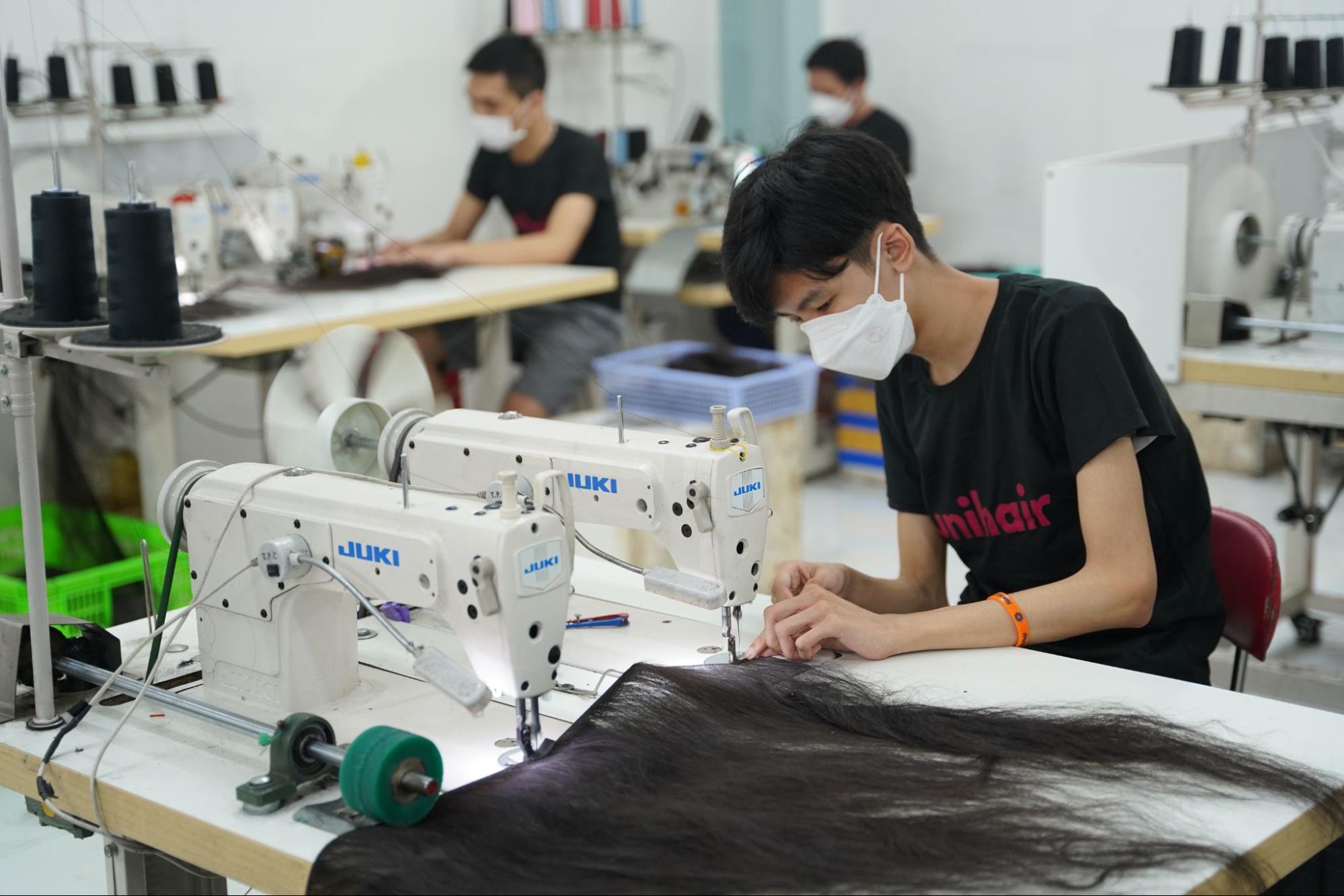 Step 4: Tying a bundle
Tying a bundle is a common practice to keep them organized and prevent tangling. Here's how to tie a bundle of hair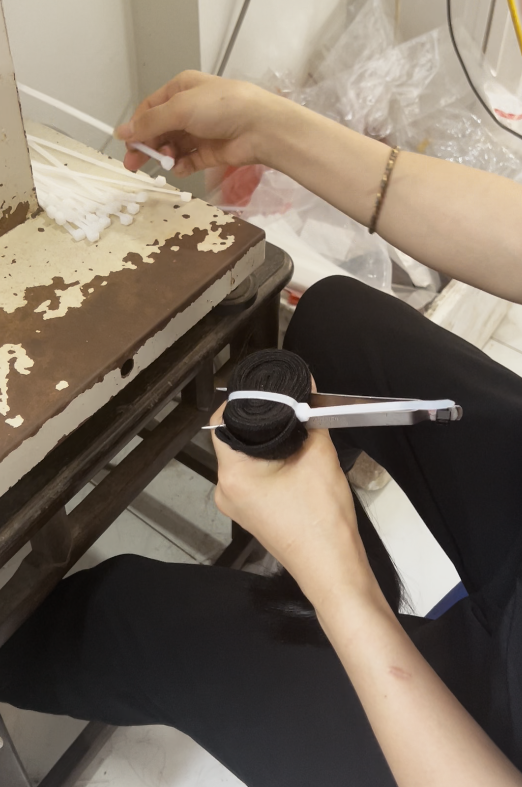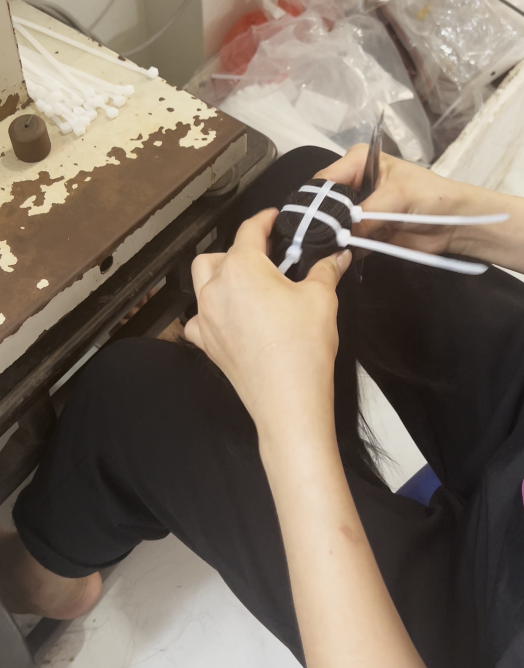 Step 5: Soaking the hair
Soak the hair refers to the process of immersing hair in a liquid, often for the purpose of cleaning, conditioning, or styling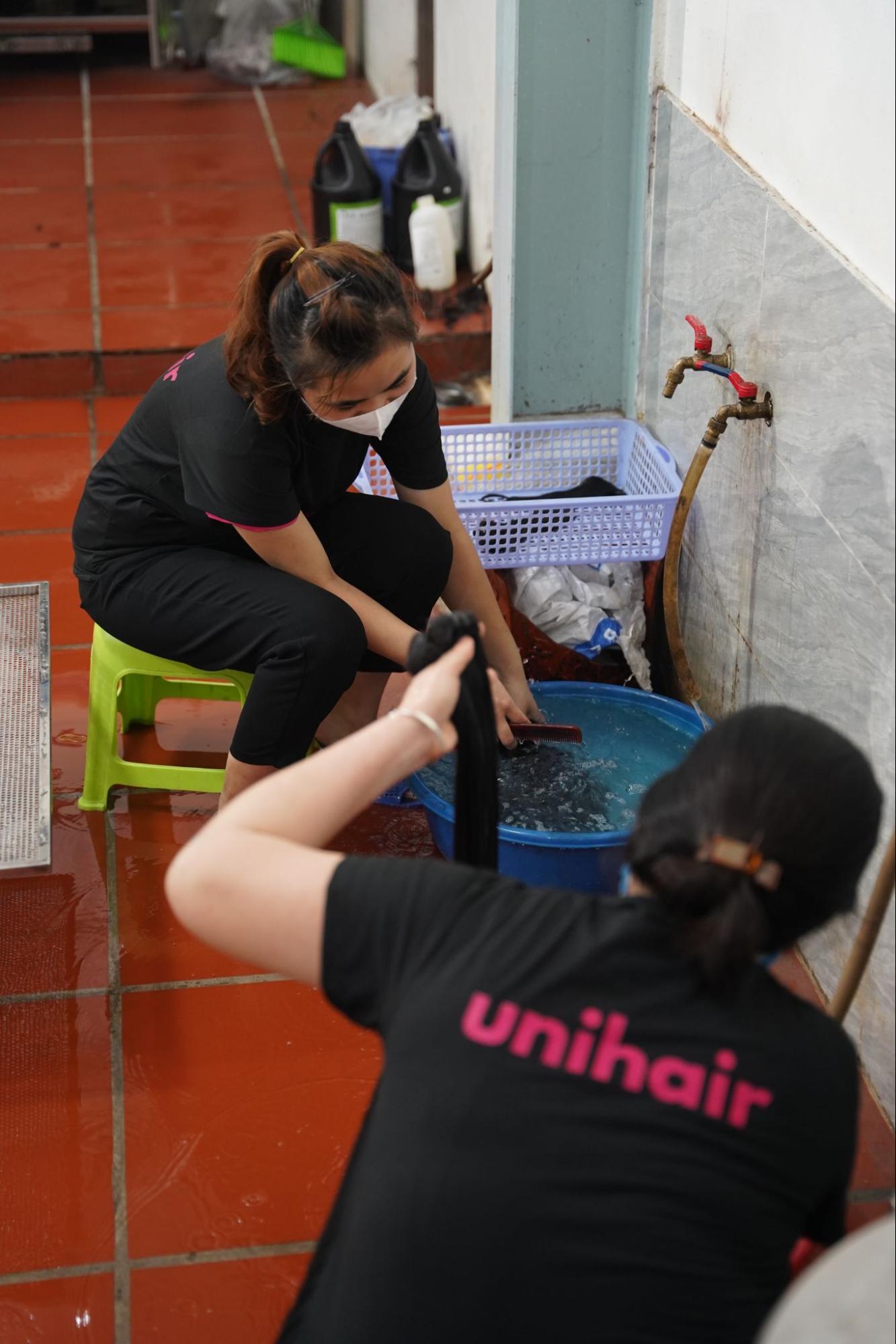 Step 6: Washing the hair
Before going to the next step, workers wash their hair by soaking their hair in shampoo and conditioner to remove dirt and oil from the hair. This whole process is done by the staff gently by hand to ensure that the hair is not broken. The process of washing hair will be repeated until the hair is really clean before continuing with another step.
Step 7:  Drying the hair
Hair after being washed will be dried with natural sunlight instead of using a dryer to dry the hair because this easily makes the hair dry and frizzy, not keeping the natural shine of the hair. Exposing your hair to the sun and wind may take a long time in the manufacturing process, but this will help preserve the quality and not cause damage to the hair.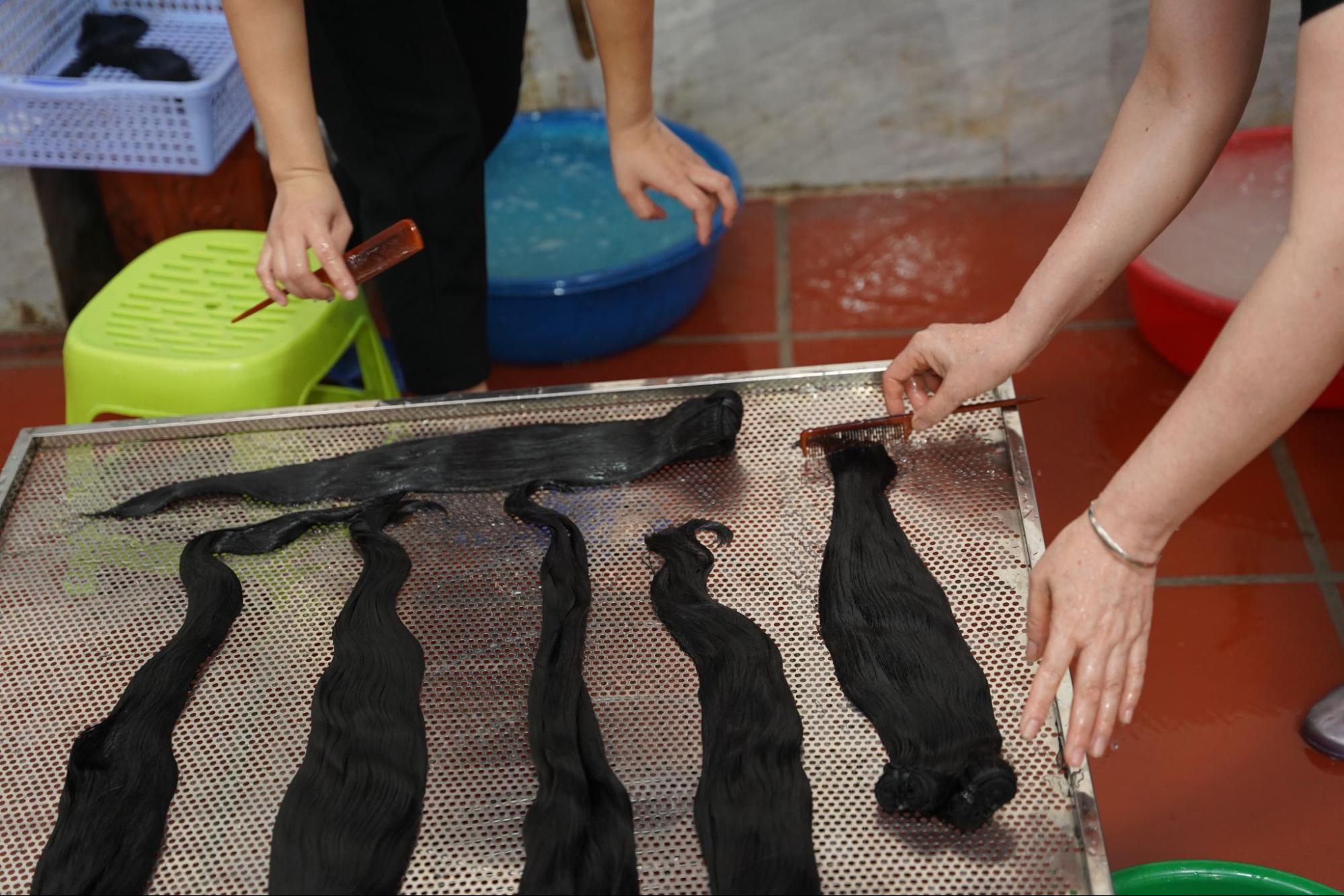 Step 8: Making hairstyle in high temperature
To create bone straight hair products, we usually spend 45 minutes straightening our hair with a dedicated straightener. After that, we will moisturize the hair with moisturizing oil to keep it smooth. This is an important step to create a shiny bone straight hair product.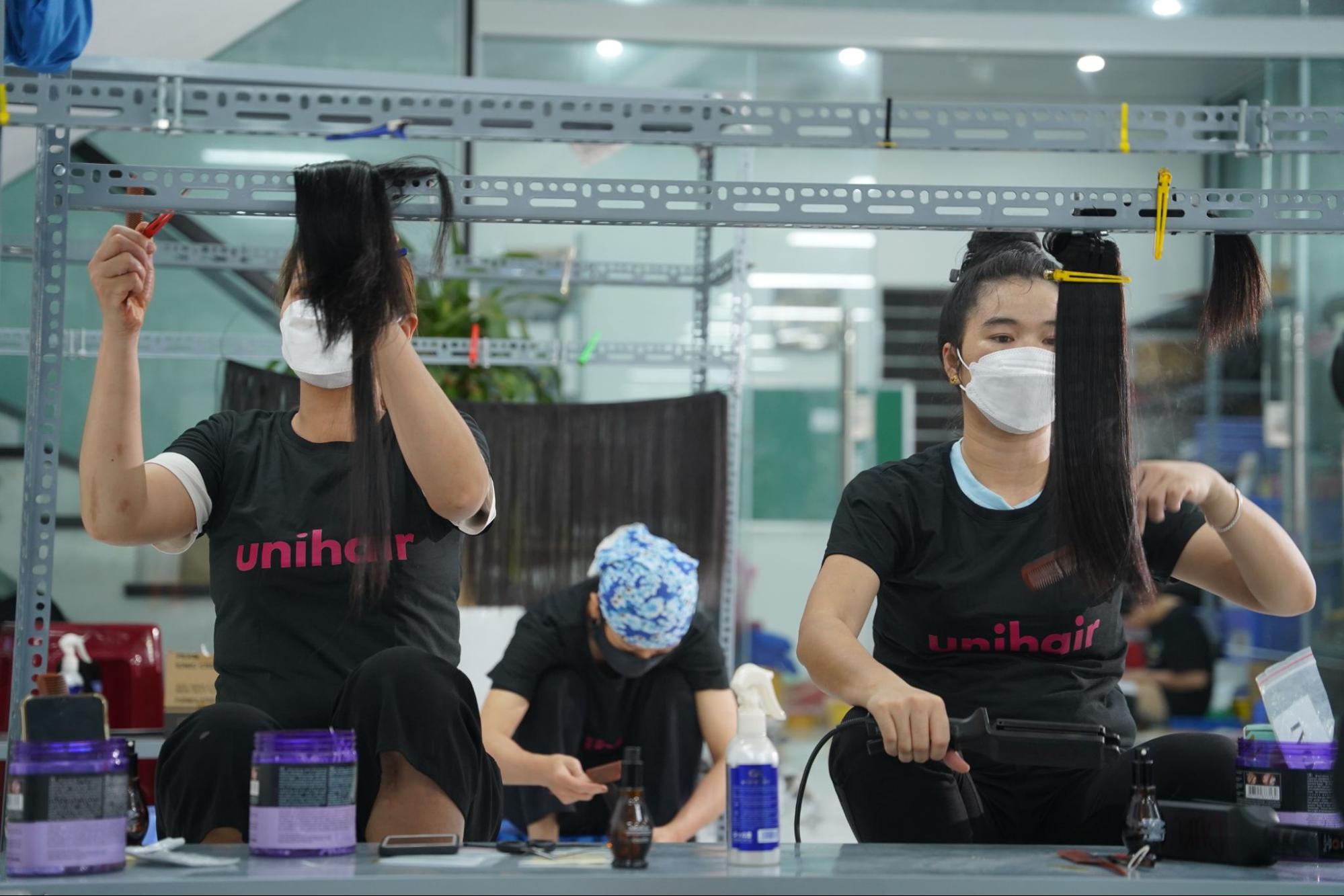 To create curly, wavy products, workers will style and steam hair according to customers' requirements using modern machines to make curling easier and more effective.
Step 9:  Checking process
Length Checking
Hair will be tested for length according to your order.
Weight Checking
After checking the length of the hair, the workers will weigh the hair to make sure it matches the requirements of your order. After you have completed the above steps, we will start shipping and proceed with your delivery.
Step 10: Packing hair products
Packing hair refers to the process of preparing and packaging hair products for  shipping, or sale.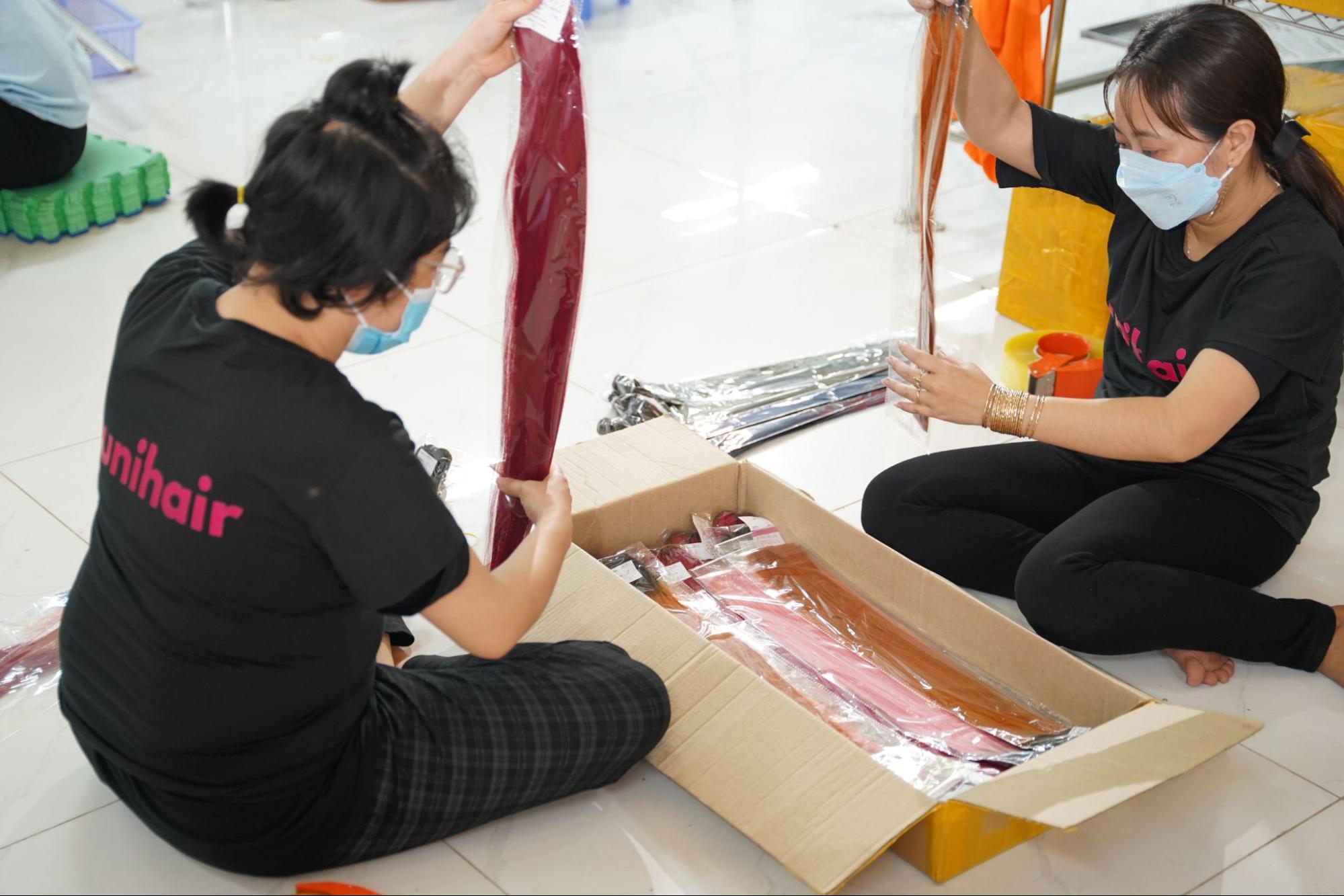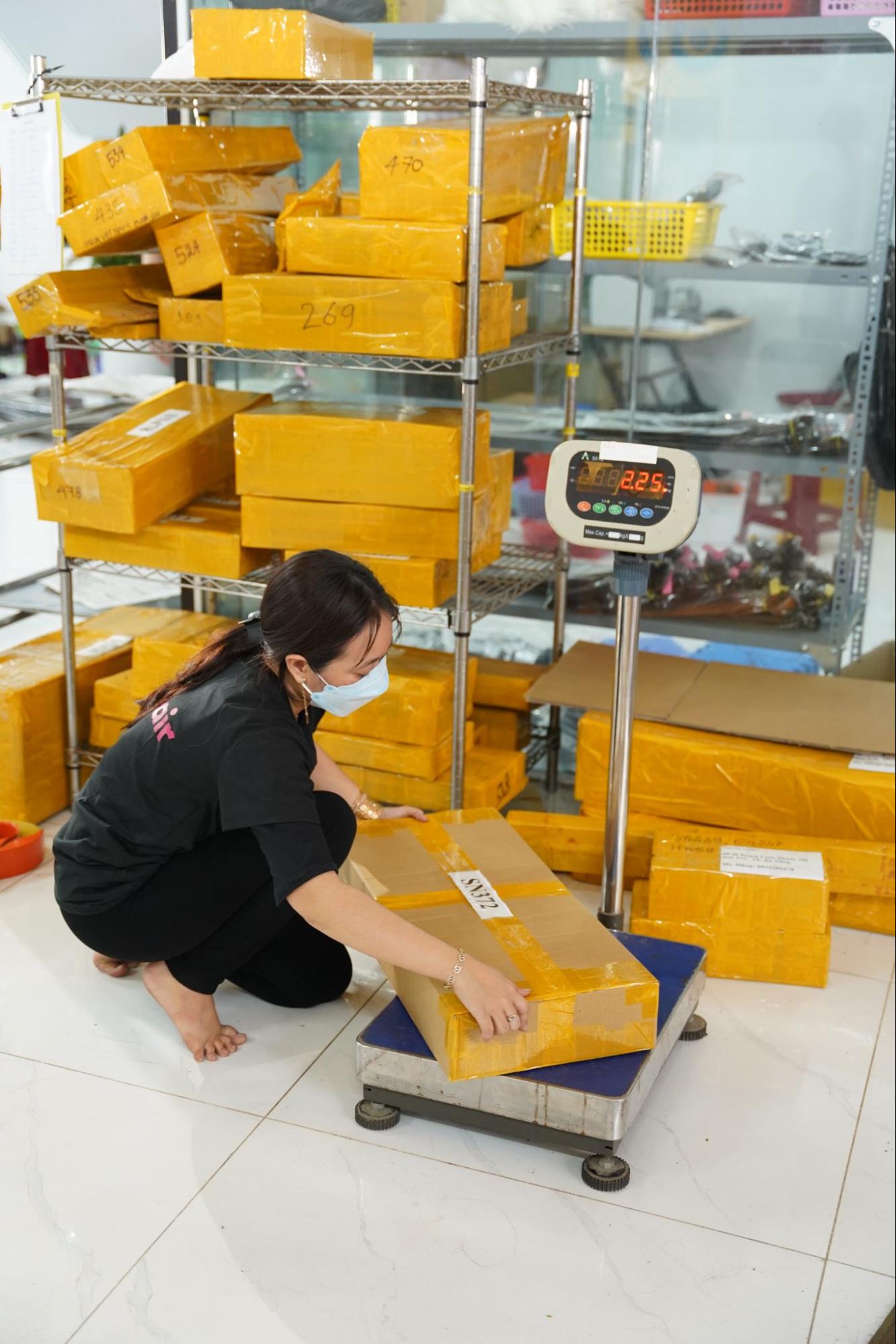 Where to buy the best hair bundle
In the hair industry, Unihair has a substantial amount of expertise. It has been a close ally of thousands of people who use hair, hair retailers, and hair salons all over the world.
Unihair can provide wholesalers and customers the best hair since team has years of experience in this field. "Pure product, Real price" is the motto Unihair uses. Therefore, Unihair's primary criteria and fundamental values are the quality of the hair and the appropriate pricing.
You may get in touch with Unihair by using:
Promotion
–
Purchase more than 5kg NOW, and you'll secure the lowest market price AND enjoy full customization to suit your style, whether it's a natural hairline, those gorgeous front baby hairs, or any other special request. ‍♀️
But here's the kicker: Unihair is stocking from this September to sell on Xmas season to prevent any production delays due to the peak season.  
No more worries about production delays during the holiday rush! ✅
What Unihair's Customers say?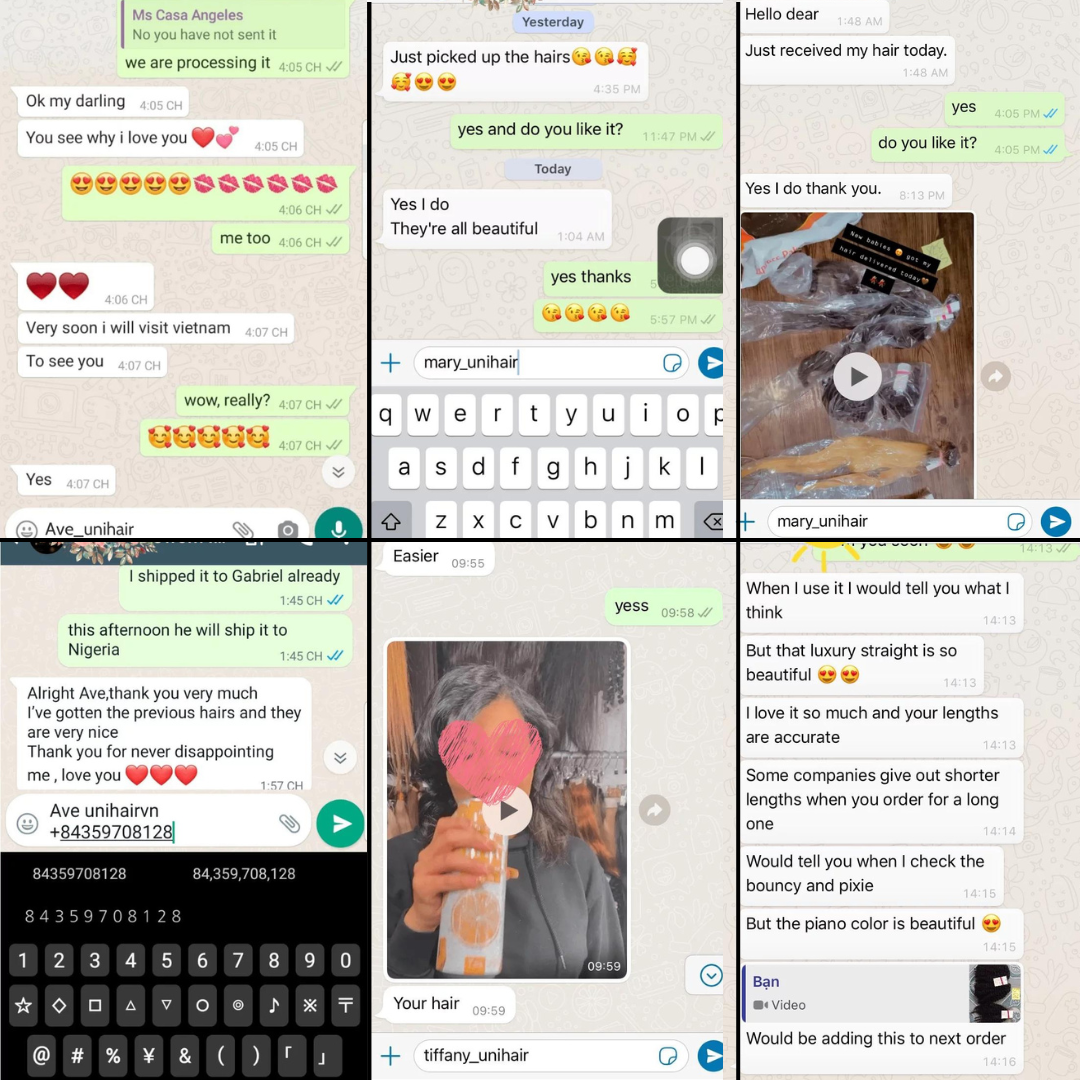 The process of how to import hair from Vietnam to Nigeria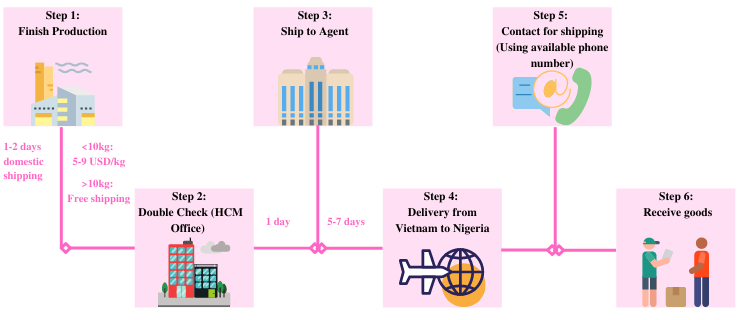 And that's all the process of importing hair from Vietnam to Nigeria. In addition, if you have any questions about the process of importing hair from Vietnam, you can refer to this playlist to better understand the import process of each country.
Conclusion
Please be confident in the pricing and quality of Vietnamese hair bundles. Guaranteed affordable pricing with superior quality compared to imports from other nations. Also mixed to create a variety of lovely hairstyles. Suitable for the international hair market.
If you have just started a hair business and are still wondering what type of hair to choose for your business, Unihair's bundle hair is an indispensable choice.