Nollywood actress, Bimpe Akintunde has spoken out on her greatest fear.
The Yoruba movie star revealed that nothing scares her more than friendship.
Bimpe Akintunde noted how the rate at which friendship crashes is alarming and how ex-bffs wash their dirty linen in public.
Though she noted that children can't always be friends for 20 years, however, it doesn't mean it should cause lifetime enmity.
The single mother of one expressed gratitude to God for grace and maturity, as she stated that when she ends a friendship, she just ghosts them.
"Nothing fear pass friendship. The way the shiiit dey crash is alarming".
"Haaaaaa. Besties becoming Enemies. Omo iya miii dey turn to Internet Fighter, washing deir dirty lines in public!!! It's so heartbreaking!! Of course, 20 children can't play for 20 years!!! But e no reach to cause lifetime Enemity!! I thank God for grace and Maturity!! When we are done playing I just ghost you!!! Your chapter don close for my life be that but I still wish you well".
'I don't keep friends, I only keep lovers' – Bimpe Akintunde says as she celebrates Yetunde Bakare
Recall that while celebrating her colleague, Yetunde Bakare's birthday last year, Bimpe Akintunde revealed that she doesn't keep friends.
For Akintunde, she doesn't keep friends or have friends but with Bakare she has a sister.
Taking to her Instagram page, she joined the rest of her colleagues to celebrate Yetunde Bakare."I don't have Friend! I don't keep Friends!!!!!!
I only Keep Sister!!!! I only keep Lovers!!!!! @iamyetundebakare is such A Lovely And Happy soul, this got me Attached to her, Adunola Mii your Smile is contagious and I Love your energy @iamyetundebakare congratulations on so many Blessings you aren't making public I pray that your Joy shall be Permanent Insha Allah. As you Celebrate Your Birthday on this Special day, I pray you will Always be Happy 🙏💙 Enjoy your Day Owo Mama Larry mii," she wrote.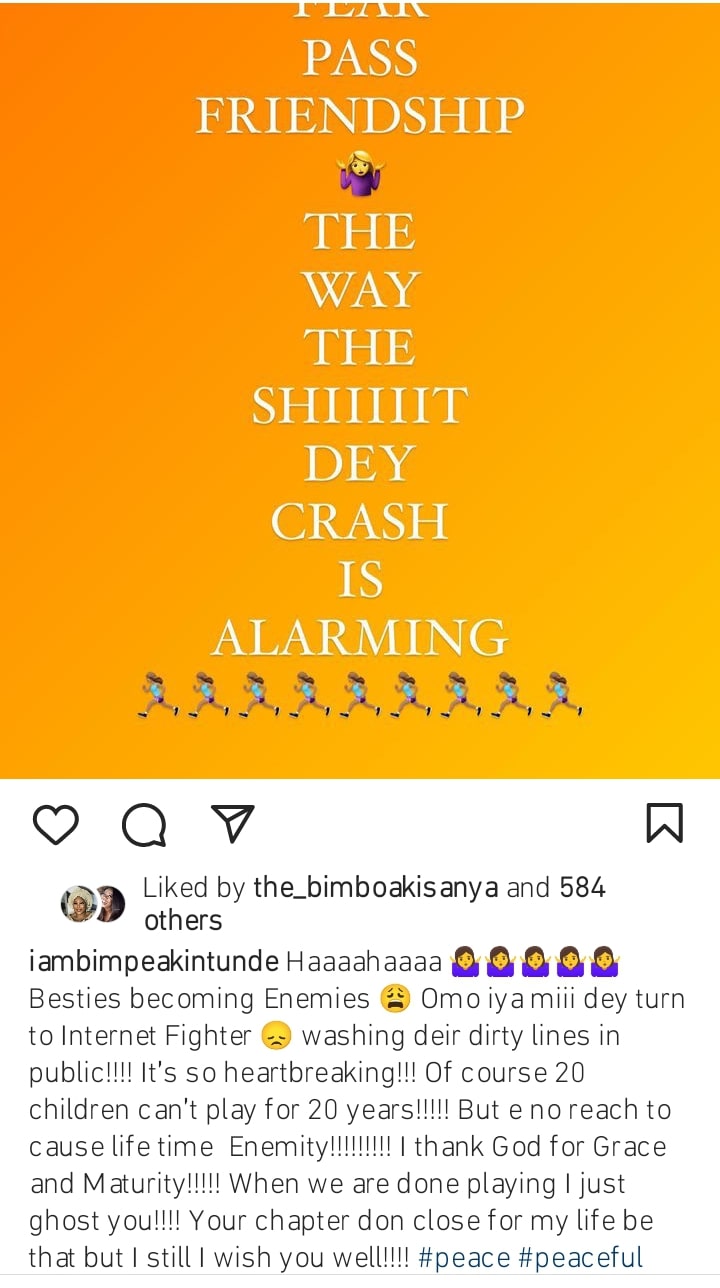 "I have been a single mom for 8 years and haven't been in a relationship for 2 years" Bimpe Akintunde
Just last month, Bimpe Akintunde opened up on her love life as she penned a powerful note to single mothers.
The Yoruba actress in a lengthy note on her Instagram page, revealed that she has been a single mother to her daughter for 8 years and hasn't been in a relationship for close to two years.
For her, it isn't because she is ugly or the worst woman, but because she cuts off any relationship that isn't working or adding value to her life.
She admitted that being single sucks but it's not the end of the world and she has learned to trust God.
Bimpe Akintunde encouraged others to be like her and cut off any relationship that doesn't add value to her life. Read more here.