Nollywood actress, Iyabo Ojo has queried her son, Festus over his love life.
The single mother of two took to her Instagram page to celebrate her son, who she describes as her first true love, ahead of his 24th birthday.
Iyabo expressed how blessed she is to be his mother as he is the best son any mother could wish for.
Speaking on his personality, she described her son as a peaceful person as she reaffirmed her love for him.
The mother of two, went on to inquire about his dating life as she questioned when she would meet his girlfriend.
"In advance to my first true love, my joy of inestimable value, my pride, my joy, my world.
I'm so blessed to be your mama. You're the best son any mother could wish for. If peace was a person, then it would be you, I loved you bcos I conceived you. I love you now & I will forever love you.
But wait o Festo when am I meeting your girlfriend now".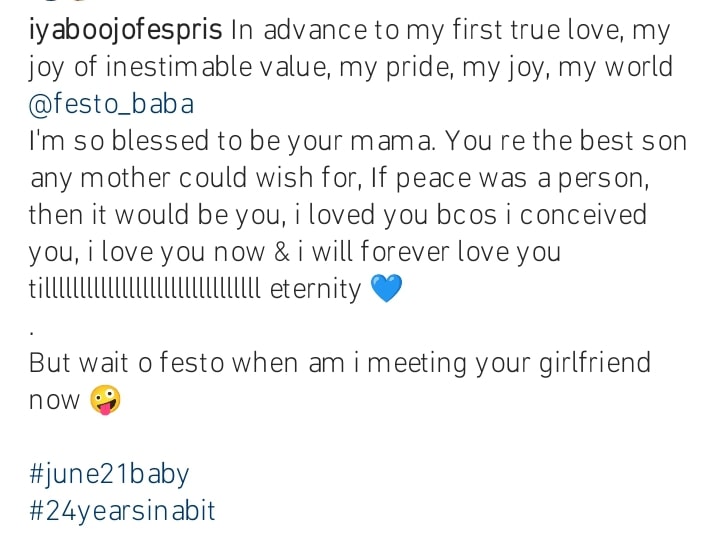 Her son isn't the only one whose love life she has touched on.
Iyabo Ojo reveals why her only daughter should get married before 24
Last year, Iyabo Ojo had revealed why her only daughter, Priscilla must get married before 24.
During a conversation, with her daughter, Iyabo Ojo who claimed that Priscilla had always been cunning about marital discussions expressed her wish for her to get married between 23 to 24 years of age.
While conversing, Iyabo Ojo further urged her daughter to confirm to her that she will get married at 23 but Priscilla who recently sparked engagement rumors, refused rather agreed to get married after the age of 24.
Reacting Iyabo said that she must get married before 25 for her to see her grandchildren early.
"Before 25, Priscilla must get married, I want my grandchildren early that is it". The actress emphasized.
"My daughter's bride price has gone up" Iyabo Ojo makes special announcement
Just weeks back, Iyabo Ojo made a special announcement to the public about her daughter, Priscilla Ojo.
The proud mother of two while reposting a video of her daughter's glamorous outfit to Queen Charlotte's movie premiere in South Africa, revealed that her daughter's bride price has gone up.
The proud mother stated that her daughter's bride price is now worth more than 10 trillion.
"Special announcement from the Queen Mother…
The bride price of our Royal Majesty Princess. @its.priscy of OJO kingdom has finally gone to 100000000000000000000000000.
Thank you & God bless you".