Tinubu – Vanguard News"/>
The National Chairman of the All Progressives Congress (APC), Senator Abdullahi Adamu, has expressed concerns over the removal of petrol subsidy in Nigeria, stating that the country is now facing a difficult situation as a result. This comes after President Tinubu declared in his inaugural speech that his administration would no longer continue paying subsidies on petroleum products, THE SUN reports.
President Tinubu justified the decision by highlighting the high opportunity cost borne by the Federal Government in funding subsidies, deeming it no longer justifiable to continue. With no provision for subsidy in the budget from June 2023, it has now been officially removed.
During a meeting with some APC governors at the party' s headquarters in Abuja, Senator Adamu acknowledged the timing of the fuel subsidy removal, stating that it poses significant challenges for Nigerians. He emphasized the importance of adhering to the party' s manifesto and urged the governors to consider it in their decision- making.
Adamu said, " We' re in a very difficult moment, and you have come at a very difficult period. Even with the timing of the lifting of the fuel subsidy, this is going to be very specially challenging to us, particularly to you because you' re where it matters most. "
He further emphasized the governors' role as chief executive officers of the states and the need to prioritize the expectations of those who voted for them. As representatives of the party, they are expected to align their actions with the party' s manifesto while addressing the peculiarities and priorities of their respective states.
The APC chairman acknowledged that the governors are the " shock absorbers" in their states and have a better appreciation of the citizens' hardships. He assured them of the party' s cooperation and support, stating that they can turn to the party for advice and assistance.
Adamu concluded by saying, " Whatever we do with you, you' re the one wearing the shoes and know where it pinches".
The removal of petrol subsidy undoubtedly presents challenges for Nigeria, as it will likely impact the prices of petroleum products and subsequently affect the cost of living for citizens. As the governors navigate this situation, their ability to balance the expectations of the people with the economic realities will be crucial in ensuring the well- being and progress of their respective states.
Source: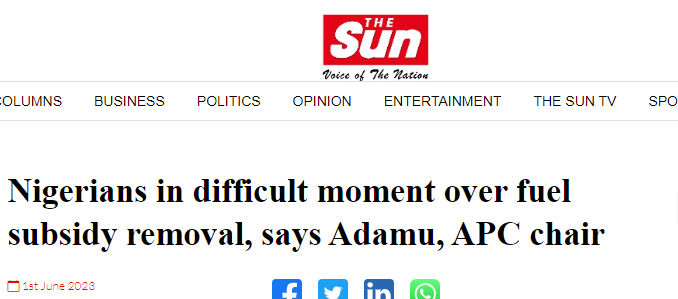 Content created and supplied by: SocietyDaily (via Opera
News )
, . , . () , , , , , , , , . / , and/or . , , and/or , and/or