Iyabo Ojo, a popular Nigerian actress and producer, recently took to Instagram to celebrate the 60th birthday of Keppy Ekpenyong, also known as Keppy, a prominent actor and producer in the Nigerian entertainment industry.
In her post, she expressed her gratitude to Keppy for the role he played in kickstarting her career.
Iyabo revealed that 25 years ago, Keppy gave her a referral note to give a then director. That little note was the starting point of her journey to a successful acting career. She went on to say that her success story would only be complete with Keppy's support and encouragement.
In the post, Iyabo acknowledged Keppy as a great man and an icon in the industry. She thanked him and his wife for opening their doors to her and for accepting and believing in her.
She expressed her gratitude and wished Keppy a happy 60th birthday, praying that he would continue to flourish in God's grace and blessings.
She penned: Today, i celebrate a great man, an icon, my God sent @officialkeppyekpenyong that little referral note you gave me 25 years ago to give Uncle's Matthias (then director) was my starting point to a now beautiful & successful career as an actor ……..my success story can never be complete without you……. happy 60th birthday, and may you continue to flourish in God's grace and blessings…. Thank you & your beautiful wife for opening your doors to me, accepting & believing in me, I'm forever grateful, sir.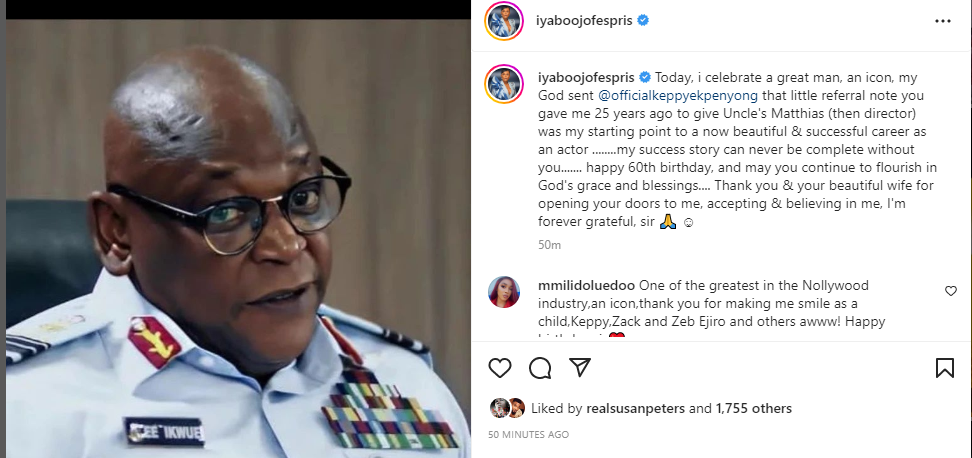 "Never seen a passionate Nigerian like her" Iyabo Ojo's lover, Paul Okoye hails her
Kemi Filani recalls that just the other day, Paulo Okoye popularly known as Paulo has eulogized his lover, Iyabo Ojo for being a patriotic citizen.
Kemi Filani reported that Iyabo Ojo has been at the centre of several bullies from colleagues over her choice of presidential and governship candidate.
Taking to his Instagram to sing her praises, Pauloo praised his woman for being a true believer of Nigeria.
"Iyabo Ojo, A True believer of Nigeria never seen. A passionate 1 Nigeria like Iyabo. Good woman" he wrote.