The drama between famous blogger, Bobrisky and crossdresser, Bobrisky is yet to be over.
In an update to their fiasco, Tosin Silverdam revealed that he has served Bobrisky a court letter.
Rejoicing, Tosin disclosed that the letter was delivered to Bobrisky on Tuesday in his Bera Estate residence.
According to him, he was so happy Bobrisky was the one who received the letter from the bailiff.
Tosin Silverdam added that their court case is scheduled for May, 2023.
"Hello guys, so yesterday Bobrisky was served letter. Bobrisky has been sued, our court date is in May. The letter was delivered to him yesterday in his Bera Estate residence. I was so happy he was the one that received the letter him/her self from the bailiff.
Thanks to my lawyers and management.. Its better we take this matter to court".
He added, "I don't need to post receipt to prove anything because that's not how to fight. You move in silence. I'll be updating you guys on the necessary details".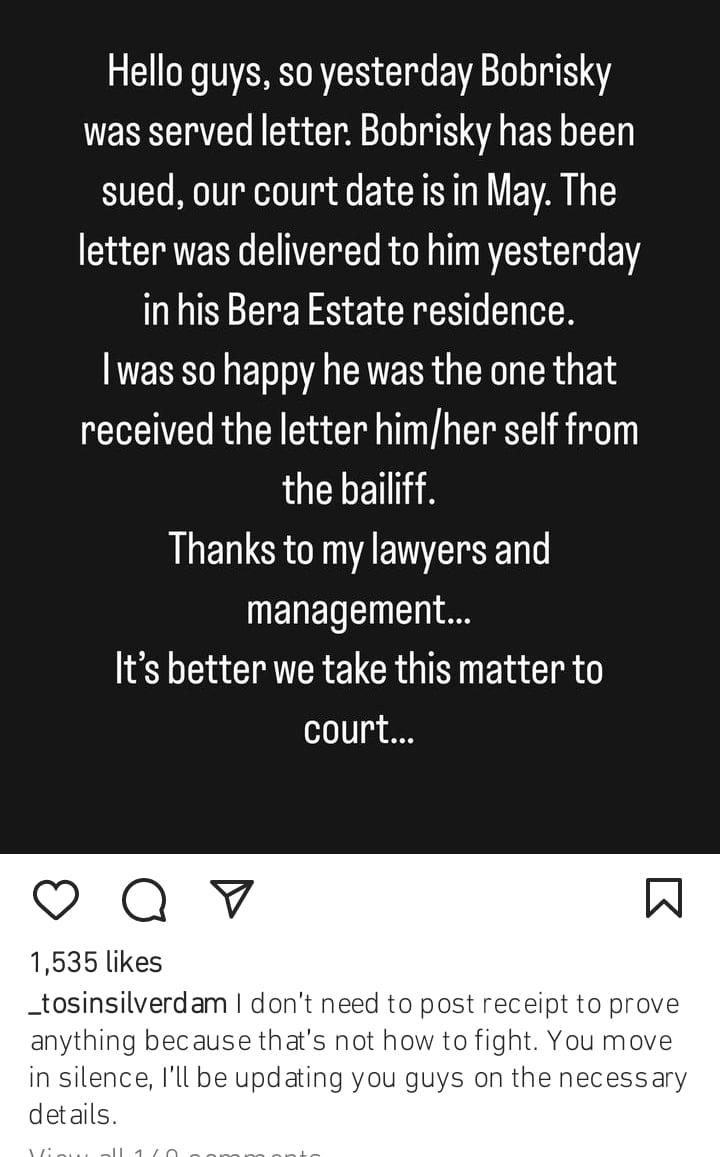 Drama as Bobrisky arrest Blogger, Tosin Silverdam over defamation
Kemi Filani reported last week that Bobrisky had dragged Instagram blogger, Tosin Silverdam to court.
For days, the two socialite had gone back and forth over an allegation Tosin laid against Bobrisky.
On his Telegram page, Tosin Silverdam had uploaded a video of Bobrisky's alleged young female worker having sex with a man.
The blogger accused Bobrisky of turning his workers to sex objects and using them for prostitution.
Following the allegation, Bobrisky had sent a message to him privately to retract his statement or risk hearing from his lawyers.
In an update, Bobrisky had taken Tosin to court after he remained adamant.
In videos which made rounds, Tosin Silverdam and Bobrisky were seen at the AIG's office as Bobrisky had filed a lawsuit against the blogger for character assassination.
According to sources, Bobrisky petitioned the AIG's office via his lawyers.
They were both asked to file former complain which would likely go the court if both parties are unable to resolve their issues.