A young man who goes by the name of Prince Obua has disclosed what he did, after a lady he invited on a special date with her invited three of her pals to their date.
When he realized what was going on, he called off the date and stayed at home to make stew.
Prince Obua said that he was unaware that the lady with who he has been chatting for a long time was bringing her friends to the restaurant where they were supposed to meet.
In his words:
"Please help me judge this case……I invited a long time chat friend on a date in a restaurant so we can see atlist,talk and get to know each other more better..so I was having 10k so I planned spending atlist 4k there then go to the market and buy some stuffs to cook today..at first she said she is coming but when she arrived she called and said we are here..
I was like how, we who and who..she said she and 3 of her friends that they insisted to come with her to atlist know me..I laughed and I said no problem I will be happy to see your friends but am close just Lagos traffic.but instead of delaying you.. enter the restaurant and request anything you guy's want to eat.. am on my way..she was so happy and said ok…
Immediately I turned to the market and bought my stew stuffs and came home to cook..she called me to find out where I am and immediately I went close to the generator to receive her call that am on the road and is noises but little traffic and am busy preparing my Stew.. Do you know that as I type now,these girls are busy ordering and eating whatever they see with the hope that am coming to waste money and Intension to render my life us.less.
They don't know that they are eating the last food that will take them to prison..and funny enough.beside the restaurant there is a police station..wetin concern me…these are the type of girls that renders men…just a little try of what some men are suffering..when you see some men that travel Xmas home from Lagos empty handed.. these are people that destroys there life..I didn't come to Lagos to be stupid.i came here with a target to be successful in life but giving a friend an opportunity does not mean I want to waste…I am eating now and they have been calling me 🤣🤣🤣🤣🤣🤣😂😂😂😂 I invited one..she came with thousands ok oo"
In another post he wrote;
"Goodnews Goodnews Goodnews
That girl that brought her family to finish my life in a restaurant today because I asked for a simple date with her…we just talked and we settled it amicably..we are still good friends…so some you attacking me should learn how to mind your business..learn not to put mouth in husband and wife matter's again. You women so much like aproko. Now we never use una settle
They are all coming to eat Rice in my house now ..am boiling 7rubbers for them. Husband and wife matter..learn never to put your mouth again"
See the screenshots of the posts below: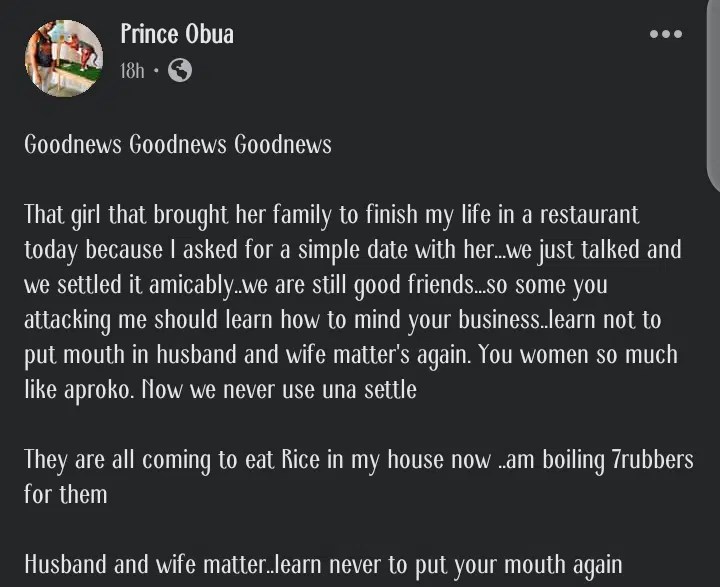 Source:Ghgossip.com