A curious fan recently asked music executive Soso Soberekon why he dislikes the well-known actress Funke Akindele, and Soso Soberekon just responded.
Remember that Soberekon turned to social media to send a mysterious message where he urged men never to drop too low to "become a wife regardless of how hungry they may be" only moments after the actress' estranged husband, JJC Skillz, declared the breakdown of their marriage.
READ ALSO: Why I Called Atiku My Father – Cross Okonkwo
This suggestion at this particular time was seen as a jab at Funke Akindele and JJC Skillz.
Recently, though, the music mogul started a Q&A on his Instagram stories and received questions from fans and followers as a result.
A follower asked:
"Why do you hate Funke Akindele, so much?"
In response, he wrote:
"No I don't hate Funke, but I have some questions to ask her when I meet her."
See the screenshot below:
About a month ago, Nigerian music executive, Soso Soberekon has sent tongues wagging on social media after giving his verdict about women and marriage.
In a recent post, he made on his Instagram page, Soso Soberekon averred that a lady of easy virtue or in other words are prostitute with good character will marry before a lady who is a prayer warrior but has a bad character.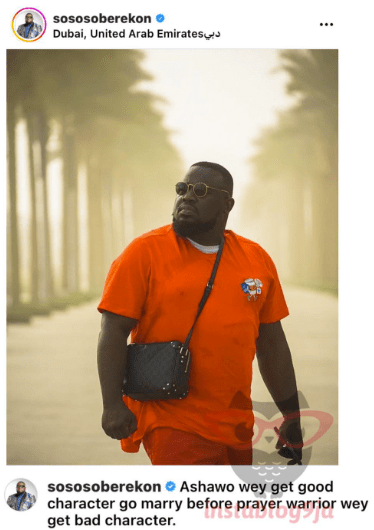 His verdict goes to point out the fact that one of the main factors men consider in choosing a woman for marriage is the character of the woman.
Soso Soberekon's post triggered mixed reactions from social media users and 90% of concurred in his thoughts.
kacciajike wrote; 'He isn't trying to say being an Ashawo is good though,… Cynthia no think am, Ashawo business is bad. You fit fess marry. But ur clients fit epp u destroy the marriage
fashionmagicblog wrote; 'Prayer warrior with bad character is a church goer, if you are a prayer warrior you should have good character, prayer warrior and bad character can't stay in same sentence'
Source; www.ghgossip.com