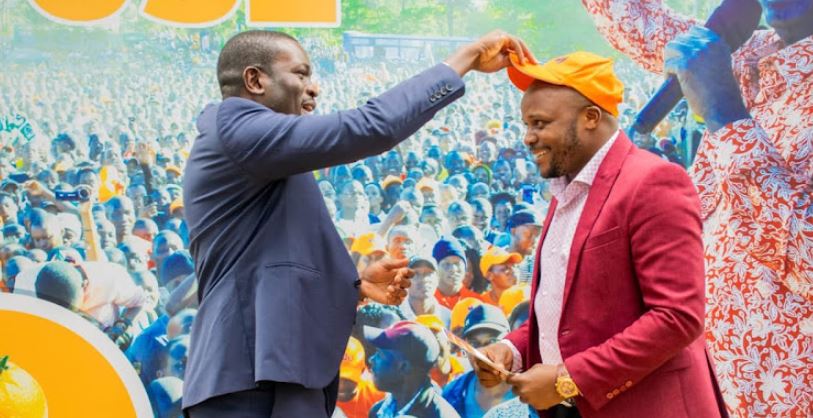 Nairobi Senator Edwin Sifuna has declared that Langa'ata Member of Parliament(MP) Felix Odiwuor alias Jalang'o will be a one-term MP following his expulsion from the Orange Democratic Party(ODM).
Speaking on Radio 47 on Tuesday, Sifuna told Jalang'o that he might as well forget about running for the seat in the 2027 elections.
The ODM Secretary General stated that the party is committed to adhering to the correct procedures. He noted that if the courts intervene and prevent Jalang'o from being expelled, the party will not grant him a ticket for the 2027 polls.
"As a political party, we are going to follow our constitution and allow the court to do whatever it wants," Sifuna said.
Adding: "I want to advise my friend Jalang'o that those telling him to quit ODM are misleading him since he cannot secure a re-election in Lang'ata on any other ticket apart from ODM."
Sifuna mentioned that Jalang'o's victory in the August 2022 elections was attributed to his candidacy on an ODM ticket.
"Jalang'o was known as a radio presenter. It was the ODM ticket that made people see him as a politician, not a journalist. So he cannot just say he will vie with whichever party," he said.
"I have told Jalang'o that even if he survives using a court order until 2027 he will not get the Lang'ata MP seat again," Sifuna said.
The Senator also reiterated his intention to, in the near future, seek approval from the party's National Governing Council (NGC) to officially endorse the decision to expel Jalang'o and four other 'rebel' MPs.
"We are already done with the disciplinary committee, recommendations have already been submitted to NEC.
"The fact that our court system is not working does not mean that we as a party will not take any action. We will do what we are able to do. It does not matter how long it will take but we must do what the law allows us to do," Sifuna asserted.
This comes as the Political Parties Dispute Tribunal offered a reprieve to Jalang'o and other MPs. On Tuesday, it issued orders barring ODM from deleting their names from the party register pending the hearing of their case against ODM.
In their case before the tribunal, Jalang'o, Elisha Ochieng' Odhiambo (Gem MP), Caroli Omondi (Suba South), Gideon Ochanda (Bondo), and Tom Ojienda (Senator of Kisumu County) accuse ODM of improperly removing their names from the party's membership register through a flawed process.
The five, who hold life memberships in ODM, are concerned that the party might propose the annulment of their election results, resulting in the declaration of their respective seats as vacant, which could subsequently lead to by-elections for those positions.
The case will be mentioned on September 21, 2023, at 2:30 p.m. for further directions.