Women have different kinds of handbags. Approximately every woman has six or more handbags in their wardrobes. Fortunately, a woman who always carries a handbag shows some kind of femininity and uniqueness.
At times women carry different items in their handbags according to where they are going and the schedule of the day. Below are some items that women carry;
1. Safety pins
These are a lifesaver if you pop a button or a seam. Also, a small one can pinch-hit for a necklace clasp if yours suddenly breaks.
2. Hand sanitizer
If you ride public transit, you need hand sanitizer. Opt for something with vitamin E or a moisturizing agent so your hands don't get dried out.
3. Breath freshener
Bad breath is a turnoff in any situation. Always keep mints or gum in your purse
4. Stain remover
Not only will this save you from going through the day with a coffee stain on your shirt, but it may also help a friend or colleague (or boss!) who'll be forever grateful.
5. Zippered pouches
Every purse needs at least three of these: one for beauty supplies, one for first aid and small necessities, and one for receipts, business cards, and other loose paper.
6. Hand and body cream
7. Healthy snack
Working through lunch shouldn't happen often, but when it does, it's good to have a filling snack in your purse.
8. Portable charger
A decent portable cellphone charger that will charge your battery a couple of times over can be had for as little as $20. A good battery case will cost you at least double that, but you won't have to deal with loose cables and an extra item floating around in your purse.
9. Perfume and a hairbrush
Milly wa Jesus challenged women especially those who enjoy living in the room without verifying the necessities that they require during the rest of the day.
She stated that before leaving the house, she double or triple-checks her handbag to guarantee that she packs all the necessities.
She always packs her gloss and her phone. "Ni mimi tu ama tuko wengi wa Ku double check kabla tutoke Kwa nyumber?" She posed a question to the ladies.
Most people replied that for them they only need money and a house key whereby both are essential for them.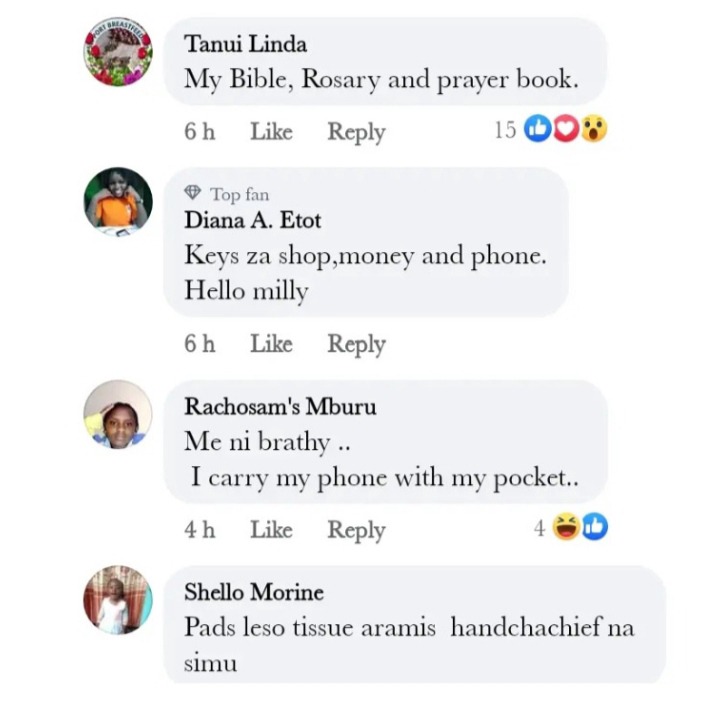 The above are remarks from a variety of Kenyans, the majority of whom are women. As guys, how do we deal with a lady who leaves the room without a handbag? Can you, as a guy, allow your lady or lady to leave without a handbag?
What do you carry most of the time when you leave the house, men?
Content created and supplied by: CarolKibet (via Opera
News )
, . , . () , , , , , , , , . / , and/or . , , and/or , and/or