The Omnivision OVM6948 CameraCubeChip® holds the record for the world's smallest commercially available camera. It measures 0.65 mm x 0.65 mm, with a z‑height of just 1.158 mm.
Developed by Omnivision, a global technology company specializing in innovative advanced digital imaging, analog, and touch & display solutions for multiple applications across several industries, the CameraCubeChip® is based on the tiny OVM6948 sensor, which claimed the Guinness Record for the world's smallest commercially available image sensor. It can be mounted on various medical instruments, including disposable guidewires, endoscopes, and catheters with diameters as small as 1.0 mm. Its impressively small size makes it perfect for use within the body's narrowest blood vessels for neuro, ophthalmic, ENT, cardiac, spinal, urology, gynecology, and arthroscopy procedures.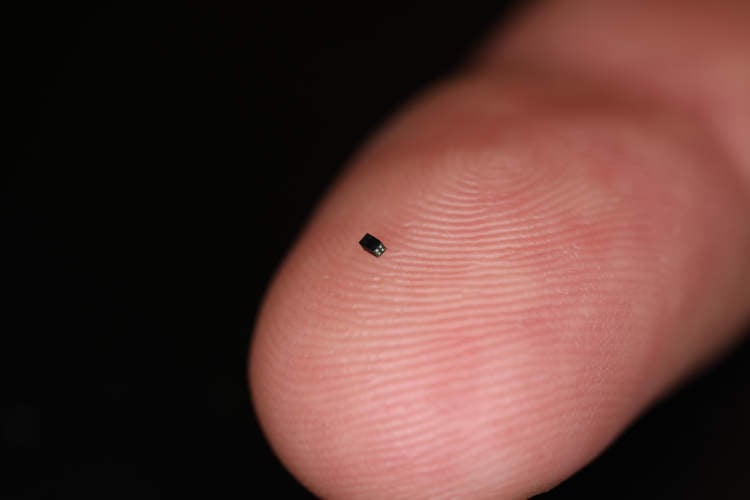 Despite its tiny body, the OVM6948 CameraCubeChip® offers a high 200 x 200, or 40 KPixel backside-illuminated resolution, producing high-quality images of some of the most sensitive areas in the human body. It is also the world's only chip-on-tip camera with backside illumination which delivers better low-light performance to help reduce LED heat.
According to the Omnivision website, due to the sensor's low power consumption, less heat is generated at the distal tip of the endoscope, improving patient comfort and thus permitting longer-duration procedures.
The world's smallest camera has a wide 120-degree field of view and an extended focus range of 3 mm to 30 mm. It can shoot video at up to 30 frames per second, and its analog output can transmit over 4 meters with minimal noise.