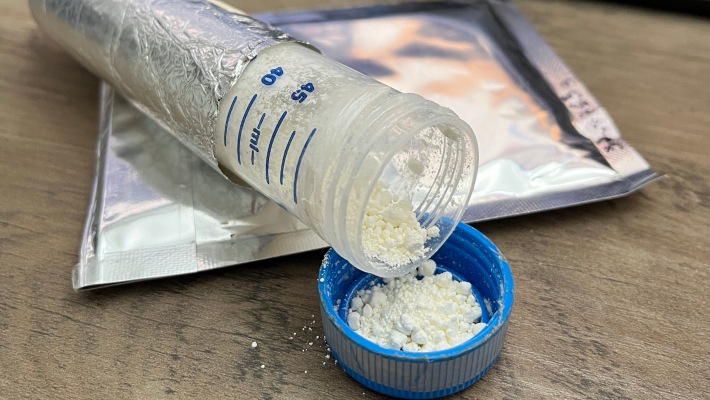 Nurses in the neonatal intensive care unit can spend an entire shift waiting for breast milk to defrost so they can prepare bottles for their hungry patients. This can wind up costing hospitals millions of dollars in labor each year and prevent nurses from performing patient care.
BBy is out to disrupt what CEO Dr. Vansh Langer called a 70-year-old freeze-and-defrost process with its technology that turns donor breast milk into shelf-stabilized, powdered breast milk.
"There's a huge opportunity here to change the 'milk shift,'" Langer told . "If nothing else, It's a $12 billion annual labor play in the United States and beyond."
Langer started the New York–based company in 2015 with bioengineer and food scientist Blanca Rosa Aguilar Uscanga, PhD, who had written a paper on the challenges of creating powdered breast milk in a way that it would retain the bioactive elements that make breast milk, well, remain like breast milk.
Together they researched the problem, and Langer developed a two-factor laser device that works with commercial condensers. Using Uscanga's algorithm, the device takes the weight of the breast milk and then adjusts the rate and temperature of the breast milk being sent into the vacuum so that it stays in what Langer called "the bioactive zone."
What results is a powder that retains nutrition and immunological properties and is shelf-stable for up to six months. BBy packages the powder in one-ounce and two-ounce aluminum packets and delivers to hospitals every two weeks. Nurses mix the required amount of powder with water. Not only does this process reduce waste, but it also eliminates the need for multiple freezers to store large quantities of breast milk, Langer said.
BBy processes 10 gallons of breast milk twice daily at eight regional processing facilities located near its 17 client hospitals in Massachusetts, Connecticut and Texas. Its main research facility is in Guadalajara, Mexico.
The company's technology is patent-pending, and it has more than 50 related peer-reviewed and published scientific articles. The U.S. Food and Drug Administration has designated BBy's technology as a food device and does not require further medical review, Langer said.
BBy is averaging $800,000 in revenue per month, approaching $10 million in annual revenue, Langer said. He expects to double that in the next year even as hospital contracts come with long sales cycles.
"It's a challenge that every other health tech startup has," Langer said. "Anything we do now will probably close next year, so that's why we try to start as many as we can. Invariably, a couple of them fizzle out."
After bootstrapping the company for seven years, BBy raised $3 million in a round last year after participating in Y Combinator's Winter 2022 cohort. Pioneer Fund led the round and was joined by Y Combinator, 7G BioVentures, Cathexis Ventures and a group of angel investors.
Though the company is focused on hospitals, a future product pipeline could include the development of more user-friendly versions of its device, for example, so that people can condense their own milk.
"It was time for us to get out of the laboratory and to really get all of our hospital contracts going," Langer said. "We're working to become the de facto way that hospitals store and administer breast milk."