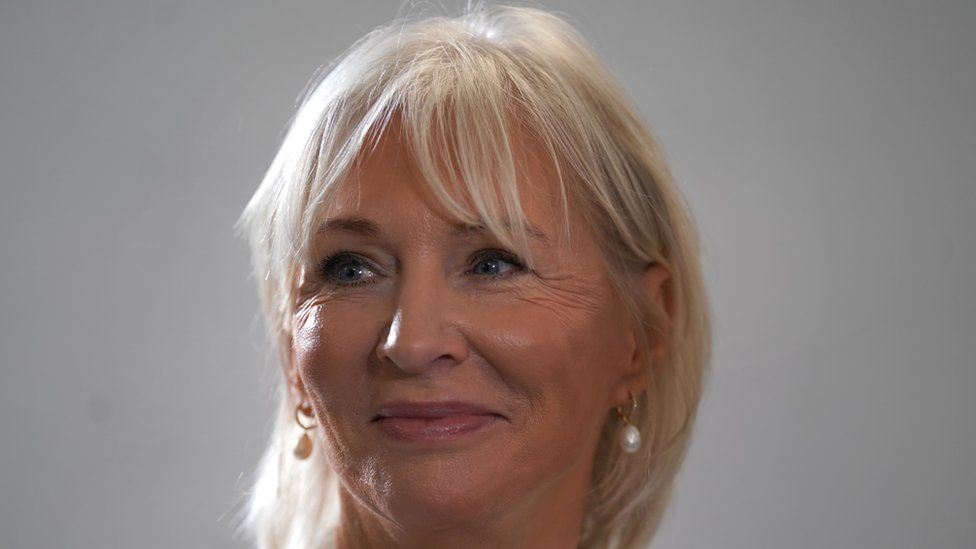 Nadine Dorries has been accused by Parliament's anti-corruption watchdog of breaking the ministerial code by not consulting it before taking a TV job.
The former culture secretary will host a new talk show, Friday Night With Nadine, on TalkTV from 3 February.
Lord Pickles, chair of the Advisory Committee on Business Appointments (Acoba), said it was informed of her decision to take up the role on Friday.
"Failing to seek and await advice" was a breach of the rules, he told her.
In a separate letter to Chancellor of the Duchy of Lancaster Oliver Dowden, Lord Pickles recommended that "given the transparent nature" of the role, it would be "disproportionate to take any further action in this case".
However, he added that the case was a "further illustration of how out of date the government's rules are".
Dorries writing book about Johnson's downfall
PM victim of leadership plotters, says ally Dorries
Under the current rules, the Mid Bedfordshire MP should have sought clearance from Acoba for any new employment or appointments she takes on within two years of leaving ministerial office.
Lord Pickles told Ms Dorries that "the risks under the rules in these types of appointments are usually limited".
He said that "had you approached Acoba in good time before agreeing to the 26-week contract… it would have allowed us to advise you appropriately in advance".
The Cabinet Office is expected to respond to the letter in due course. Ms Dorries has been approached by the BBC for comment about Lord Pickles' findings.
'Find out what Johnson really thinks'
The first instalment of the MP's weekly hour-long programme will feature an exclusive interview with Boris Johnson.
She joins a roster that includes Piers Morgan, Jeremy Kyle, Vanessa Feltz and Sharon Osbourne.
"As someone who's never been afraid to speak their mind, I'm delighted to be joining the team at TalkTV for Friday Night with Nadine, where I'll be putting my 23-year political career and experiences at the despatch box to good use," she said.
"Boris Johnson continues to dominate so much of the political narrative since his departure from No 10. Now's the time to find out what he really thinks about a whole range of pressing issues."
In response to Ms Dorries' new TV role, Labour's Anneliese Dodds said: "Once again the Conservatives think the rules don't apply to them."
The party chair said: "It's no surprise that Rishi Sunak's MPs are looking for new jobs, but the least we could expect is for former ministers to follow the guidance around appointments.
"Rishi Sunak has been too weak to deal with his MPs and ministers so far.
"Is he strong enough to take action against Nadine Dorries?"
TalkTV described her upcoming show as "an irreverent look at the week's news and a lively mix of topical chat with guests from the world of politics, culture and sport".
Fellow Tory MP and Johnson supporter Jacob Rees-Mogg recently announced he would be joining GB News to host his own show.
Find BBC News: East of England on Facebook, Instagram and Twitter. If you have a story suggestion email [email protected]
More on this story
Dorries writing book about Johnson's downfall

Government lurching to the right, ex-minister says

Dorries defends Claire's Accessories Sunak attack

C4 rejects Dorries' claim that show was faked

Channel 4 didn't do itself any favours – Dorries