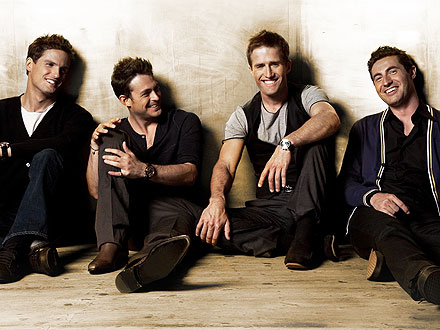 From left: Stephen Bowman, Jules Knight, Humphrey Berney and Ollie Baines
Cambridge Jones
They're old schoolmates with Kate and Prince William. They get teased by Prince Philip. And they can count stars from Jennifer Hudson to Kevin Spacey among their fans. So who are exactly they?
Meet Blake, the U.K. classical-pop quartet who've sold more than a million albums worldwide – and are prepping their U.S. invasion with the melodic single, "Start Over," already a hit on Sirius Radio's pop chart. (Watch the video below.)
Four good-looking guys who harmonize? Just don't call them a boy band: "It's flattering to be called a "boy" at this point," says Ollie Baines, 29, who founded the group with Jules Knight, 30. "Maybe "man band" is better," adds newest member, Humphrey Berney, 31.
Whatever it is, it's caught the attention of The Queen, who's invited Blake to perform at Buckingham Palace twice.
They were even teased by Prince Philip himself. "He kidded with us that he couldn't remember [us] – which he could, of course – but it was his way of breaking the ice," recalls Stephen Bowman, 31, adding, "He was so funny, he had such a sparkle in his eye."
Knight is intimately familiar with the royal family, having witnessed the budding romance between Will and Kate while studying with the couple at St. Andrews.
"She was just so down-to-earth and I'm sure the fact that she was so grounded and had her head firmly on her shoulders was a big part of the reason why they got together," he says.
Baines, who attended Marlborough College with the Middleton sisters, agrees, saying, "She was very charming, very pretty and she was known as being very polite."
For the latest news on Blake, check out www.blakeofficial.com.
Taken from:
Prince William & Kate's Classmates Start a Boy Band!