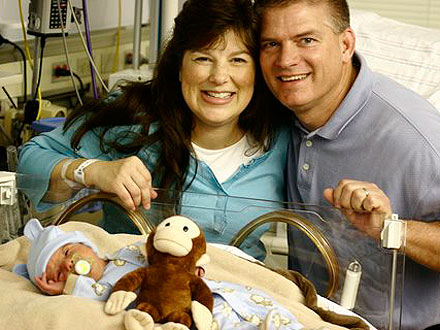 Gil and Kelly Bates, with their 19th child, Jeb Colton
Courtesy Bates Family
Having 19 kids – and willing to welcome more – isn't just a Duggar thing any more.
Meet Gil and Kelly Bates of Lake City, Tenn., who had their 19th child – a boy, weighing in at 7 lbs., 8 oz., named Jeb Colton – on Feb. 1.
"You would think with your 19th child, you wouldn't get excited and nervous," Gil, 47, tells PEOPLE in an exclusive interview. "But I was as nervous with this baby as I was with our first."
The Bates family has known Jim Bob and Michelle Duggar for decades and has even appeared with the Duggars on their TLC show 19 Kids and Counting, which returns for season 6 on Tuesday (9 p.m. ET). Now, the Bates family will have their own show, a one-hour special airing March 27 on TLC after the 19 Kids and Counting season finale.
In addition to new baby Jeb, all the Bates kids live at home: Zach, 23; Michaella, 22; Erin, 20; Lawson, 19; Nathan, 18; Alyssa, 17; Tori,16; Trace, 15; Carlin, 13; Josie, 12; Katie, 11; Jackson, 9; Warden, 8; Isaiah, 7; Addallee, 5; Ellie, 4; Callie, 2 and Judson, 1.
"It is very exciting, and we're nervous, too," admits Kelly, 45, of the prospect of having their family life televised for millions to see. "Our biggest desire is to be real. The Duggars have helped people. We talked it over with the children, and everyone likes the idea of helping others. It is not wonderful all the time. We have the same struggles everyone has."
The Bates both say that when they married 25 years ago, they anticipated having a "normal family" with "two or three kids," but that didn't happen. Three months into their marriage, they were pregnant with Zach. "We decided to trust God for children," Gil says. "And I would not trade His choices for mine any day."
So how do the two supersized families compare?
The Name Game
The Duggars' kids all have names that begin with J; the Bates family has jumped all around the alphabet. But both families have children named Jackson and Josie.
What They Believe
Both the Bates and Duggar families have strong Christian beliefs – the Bates family attends a Baptist church near their home and the Duggars worship at a Baptist-based home church.
Birthdays
The Bates family has four children who share the same birthday, but none of them are twins. The Duggars have two sets of twins. (Kelly Bates has given birth more times than Michelle Duggar.)
Chores Galore
While the Duggar family divides up the household chores by jurisdictions, the Bates family shares a rotation of duties. "Once a month, everyone gets to volunteer for the chore they want like laundry or doing the dishes," Kelly says. "We want the kids to see that even though work is hard, you can pull together and it is a lot smoother."
Making Ends Meet
Gil runs a tree-removal business and, like the Duggars, the Bates live debt free. "We watched a seminar on financial freedom and wanted to focus on the important things in life," says Gil.
School Days
Like the Duggars, the Bates kids are all homeschooled. "The oldest ones graduated and some are taking college courses to earn credits," says Kelly. "Sometimes, it is like a three-ring circus around here."
Mom's Health
Like Michelle Duggar, Kelly says that family and friends have often expressed concern that having so many children would be dangerous to her physical well-being. "I have not had health issues and have had pretty easy pregnancies," Kelly says. "We try to live healthy and make wise decisions about our health. We had a peace about the choice we're making."
Read the original post:
Gil and Kelly Bates Welcome Baby No. 19