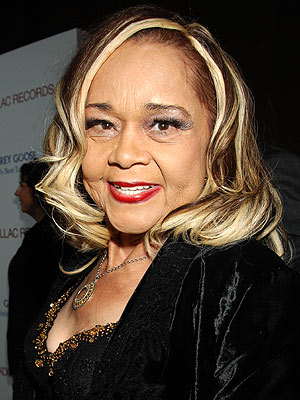 Etta James
Gilbert Flores/Celebrity Photo
Recalling his mother, R&B legend Etta James, and her final moments, son Donto James tells PEOPLE he's happy he and his brother, Sametto, got to hold her in their arms and say goodbye.
"It's been quite a day, Donto, 43, said Friday, the day Etta, 73, died from complications of leukemia, "but I'm very grateful. She basically passed in my arms, and I was able to share everything I needed to say to her, from praying to listing her accomplishments as a mother."
The goodbyes were delivered at a Riverside, Calif. hospital, where Etta James was taken Thursday night. Donto says his mother couldn't speak but seemed to understand what he was telling her.
"I asked her if she heard what I said, and she'd flutter her eyes and look at me very quickly. And she had been nonreactive before that," he says.
Donto describes the moment as "spiritual," and although he'd long dreaded seeing his mother die, he now believes "it was a true gift to be with her when it happened. I wouldn't want it any other way than for her to go in our arms."
He adds, "I told her that I loved her. I said, 'You were a wonderful mother, you did a wonderful job, your seven grandchildren love you, and they will be okay.' "
In a final tribute, he also says, "For sure, the world lost a legend today. I am very proud of her, and very thankful."
See more here:
Etta James's Son Describes Her Final Moments