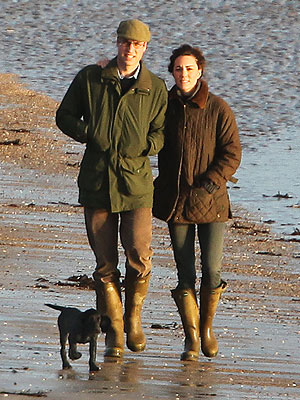 The Duke and Duchess of Cambridge
Bauer-Griffin
Is there a new addition to the Duke and Duchess of Cambridge's household?
That appears to be the case, as the couple take a romantic stroll in North Wales just a few days after Kate turned 30.
At their countryside surroundings, the two snuggled as they walked along the edge of the sea with a new, four-legged friend trotting with them along the damp sand.
There had been reports that William planned to give his bride a puppy for Christmas, and the couple welcomed the New Year playing with some dogs at Kate's family home in Bucklebury, Berkshire.
Growing up, William had a black Labrador – named Widgeon – and the devoted pal was regularly seen by his side at shoots and polo matches.