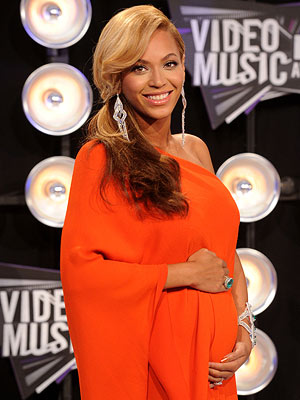 Beyoncé at the VMAs
Jason Merritt/Getty
Beyoncé and Jay-Z are now Mom and Dad!
The singer, whose pregnancy was closely watched and the subject of various rumors, gave birth to a baby girl in New York on Saturday, according to her hometown paper, the Houston Chronicle. Mom and baby are doing fine, the paper reports.
Sources tell E! News the little girl's name is Blue Ivy Carter.
"Welcome to the world princess Carter!" singer and pal of the couple Rihanna Tweeted Saturday night. "Love Aunty Rih."
Russell Simmons also acknowledged the new parents on Twitter: "congrats to my good friends Beyonce and Jay-Z," he said.
Beyoncé, 30, checked into Lenox Hill Hospital on New York's Upper East Side on Friday, more than a month before her previously stated due date in February.
On Thursday, the singer was photographed out in the city covering her baby bump with a black blazer and a flowing scarf.
Despite buzz that the singer had given birth to a baby girl over New Year's weekend, Jay-Z and an "enormously pregnant" Beyoncé were spotted enjoying a dinner on Dec. 31 at Buttermilk Channel in Brooklyn, N.Y.
The first-time mom announced she was expecting at the MTV Video Music Awards in August.
Reps for the couple did not respond to requests for comment.
More:
Beyoncé and Jay-Z Welcome a Baby Girl