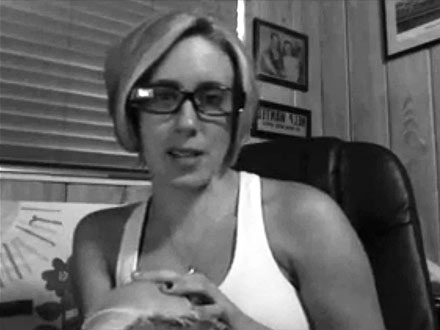 Casey Anthony, in her video message
Casey Anthony says it's weird being on camera, but that's not the weirdest thing about her just-surfaced video diary.
For the first time since her July acquittal of murdering her daughter Caylee, Anthony is speaking out and showing her face – in a personal video diary she says she recorded in October.
Sporting a new look, with a blonde bob and wearing black-framed glasses and a white tank top, Anthony, 25, talks about her life in probation – how happy she is to have a computer, phone and camera she can call her own. She also mentions that she has adopted a dog.
"It's just a little surreal how much things have changed since July, and how many things haven't changed," she says. "But the good thing is that things are starting to look up and things are starting to change in a good way. I just hope that things stay good and that they only get better."
The video provides few details about where she is, as she serves out her probation at an undisclosed location. The probation ends late next month.
Two sources confirm to PEOPLE that the person in the video is Casey. "She is desperate to get her story out," says one source, who knows Casey's current whereabouts. "She thought this would be the best way to do it. Unfiltered, in her own words."
In her four-minute, 19-second message, Anthony seems relaxed, though somewhat nervous and awkward at being in front of a camera. She pauses several times to ruminate over her life.
It was not clear how the video leaked, but it may not be the only one of its kind.
"This is the first of many, and I'm looking forward to this," Anthony says. "It's a little scary, because I hate being on camera. But I need to conquer that fear at some point, and this is a good start."
• Additional reporting by STEVE HELLING
Read More:
Casey Anthony Says Her Life Has Become 'Surreal'