Sandringham House, Queen Elizabeth and Prince Philip (inset)
Indigo/Getty; Inset: Paul Edwards/Getty
The discovery of the remains of a woman in a remote location on Queen Elizabeth's Sandringham country estate has triggered a murder investigation.
Police "have launched a murder investigation following the discovery of human remains in an area of woodland" on the Queen's land in Norfolk, about 110 miles north of London, they confirm in a statement to PEOPLE.
"The remains of a female were found by a member of the public who reported the incident to police shortly after 4 p.m. on Sunday 1 January," Norfolk constabulary added in the statement.
A forensic search is underway, and an autopsy is scheduled for later Tuesday once the body has been removed.
"The area has been sealed off and a detailed search is currently being carried out. Examinations of the scene are being conducted by forensic experts in pathology and anthropology and should be completed today," according to the statements.
Detective Chief Inspector Jes Fry said in a press conference Tuesday that the investigation was in the "very early stages," reports the BBC.
"It could be a complex inquiry," said Fry. "The body had been there for some time."
He added, "The circumstances suggest this is a murder case, and we are looking at missing persons reports and cold cases, both locally and nationwide."
The discovery is thought to be around three miles from Sandringham House, where the royals spent the holidays.
The Queen and Duke of Edinburgh, who is recovering from his emergency surgery at Christmas, are in residence at the moment, and the Queen was seen out riding her horse Monday.
Officials at the Palace are not commenting on the situation, referring all calls to the police.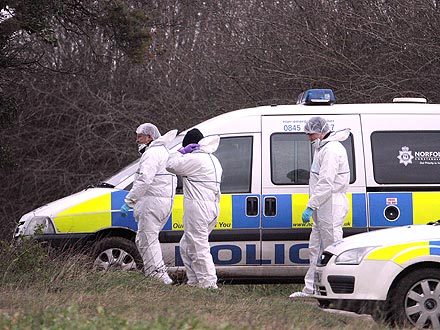 Police at the entrance to the woods on the Sandringham Estate, Jan. 3, 2012
Albanpix Ltd / REX USA
See the article here:
Murder Inquiry on Queen's Estate After Corpse Found