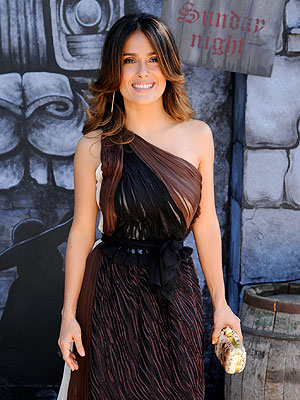 Salma Hayek
Phil McCarten/Landov
Salma Hayek: Knight?
The Puss In Boots actress was among those named by President Nicolas Sarkozy to receive the Légion d'Honneur Sunday. Hayek, 45, will enter the five-tiered honor academy with the grade of Chevalier or "Knight."
Announced in the President's official New Year's list, Hayek will receive a formal induction, which involves a Presidential medal pinning. Her induction will likely occur at the Élysées Palace within the next two months, says a source.
Founded by Napoleon in 1802 as a merit award, the Legion of Honor is awarded to military personnel and civilians for service to France. It is not exclusively reserved for the French and is often awarded to figures of international standing.
Past recipients – who are entitled to wear a small rosette pin indicating their rank – include Jerry Lewis, Clint Eastwood, Robert Redford and Robert De Niro.
In making the grade this year, Hayek's honor was also something of a unique family affair: her father-in-law, retired business magnate Francois Pinault, was promoted in the same list to the Legion's exalted rank of Grand Officer.
View the original here:
Salma Hayek Will Be 'Knighted' in France