There is no plan for Emmanuel Frimpong, Chris powell
The Charlton manager laughed when he was asked wether he has plans to sign the Ghanaian international and answered that there is no chance in Charlton for Frimpong.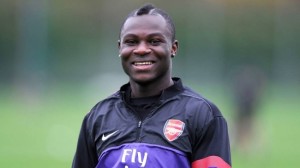 Frimpong who played in the England Youth team and made his debut appearance for his country of birth, Ghana in 2013 has never featured in any Arsenal league Game this season. He has been a faithful gunner player since the age of nine starting from the youth academy On 22 May 2009, Frimpong was injured on the quarter hour mark of the FA Youth CupFinal against Liverpool and was substituted. He featured heavily in Arsenal's pre-season in Austria and received praise from Arsene Wenger for his performances in the 2010 Emirates Cup. "
I believe Frimpong has done really well as well. He is a bit less of a dribbler but he is a fighter and he is a winner
.
Now, Arsene Wenger doesn't seem to give attention to the young chap as he is made to sit at the bench and rather than being on the field of play.
On 19 November 2012, Frimpong joined Championship side Charlton Athletic on a six-week loan deal until 1 January 2013] and a few weeks later on 25 January 2013, he joined Fulham on a season-long loan deal.
On 6 September 2011, it was announced by the Ghana Football Association that Frimpong has pledged his future to Ghana. FIFA cleared him to play for Ghana in November 2012. Frimpong made his Ghana International début on 24 March 2013 during a 2014 World Cup qualifying match against Sudan.
He need to get a regular play in club side before he can earn a call-up to serve his nation Ghana
Comments