Romelu Lukaku: "With Mourinho, we said that a loan would be the best solution"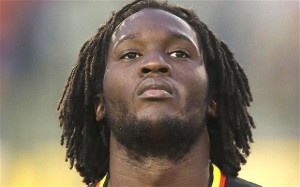 At times announced to West Bromwich Albion or Malaga, Romelu Lukaku finally joined Everton. The Belgian international of Congolese origin was loaned to the Toffees for a season.
The Chelsea player knew he would certainly be blocked by Fernando Torres and Samuel Eto'o at the forefront of the Blues and had to find playing time in another club.
Through the microphone of  Dernière Heure, the Red Devil returned to his transfer to Everton. The striker admits having agreed with Mourinho for a possible loan. For Lukaku, his departure for the Toffees has nothing to do with the arrival of Samuel Eto'o.
"I received a phone call around 19 hours telling me that I could go to Everton. I do not want to go too fast. I wanted to know some things before getting committed. When you're loaned, you should know if you're really playing. I then received a call from Roberto Martinez, the Everton manager; He reassured me and told me lots of nice things. I thought of staying at Chelsea but for only 90%. I had some doubts on my game time at my age, I really have to play. "
To the question: Have you resented the arrival of Samuel Eto'o? Lukaku replies
"No, it has nothing to do. Jose Mourinho was clear to me and it was much better. I love when a coach is straightforward. Together, we said that a loan was the best solution. "
"To Malaga, I did not have the right to be let outside England. West Bromwich Albion was also there but I did not have to make the easier choice. We must make challenges and it will be at Everton. "
"I cannot afford to stay on the bench for my development. At Everton, I can continue my progress in a club that likes to play good football. "
Comments