Premier league: Podolski powers Arsenal to win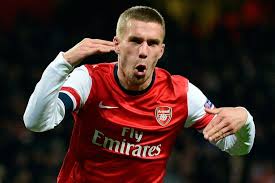 German striker Lucas Podolski has given  the Gunners their first premier league win. This win has erase the painful memory of last week's defeat against Aston Villa. Even though the impressive triumph against Fenerbahce in Istanbul  raised hopes this win have now shut critics up because it is now clear that the gunners are in for business this season.
"We were impressive and always in control. We deserved the win and it's a good win. We had a convincing win against Fenerbahce and that was a good response to the disappointing first result [against Aston Villa]", said Arsene Wenger.
 Giroud scored the first goal as Podolski added two gaols for Arsenal as substitute Darren Bent pulled one back for Fulham.
Comments