Marouane Fellaini to Manchester United: A photo and first words!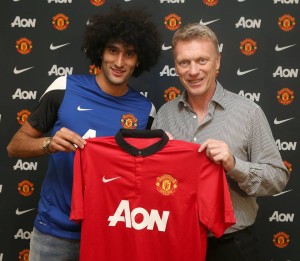 As Africa Top Sports.com reported this morning, the Moroccan Marouane Fellaini has signed in the last line of the transfer window with Manchester United.
The Everton player finds his former coach David Moyes at the Old Trafford.
Everton claimed not wanting to give his player under 42 milllion. The transfer was made for 32 million Euros. An amount already acceptable!
The duration of the contract has not been specified.
Here is the first official photo of the player with his new jersey and first words:
"Being able to play for United excites me greatly. I know the coach for several years. I have great respect for him and his way of working. When I received the opportunity to work with him again, I did not hesitate. I had a fantastic time at Everton and I would like to thank all the fans of Everton. Wear the shirt of Manchester is the dream of any player. I believe I can help the club win titles in the future. "
Comments