A Liverpool fan get a tattoo of "Kolo Toure" on the foot but with a misspelling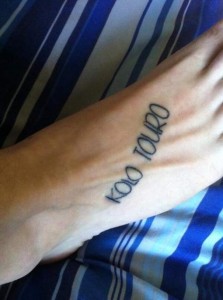 Arrived this summer at Anfield, Kolo Toure is obviously one of the favorites of Liverpool fans. He started all league games except that of last Sunday against Manchester United (1-0) because of an injury.
As usual, when fans identify themselves with a star, they get a tattoo of his name or image. But this supporter of the Reds did not do it well.
Instead of Kolo Toure, he got "Kolo Touro" on the foot. When you know that it is for life
Comments